It's that time again robots! And as usual the end of the month brings two new books into the Angry Robot family!
This month's new arrivals are Peacemaker by Marianne de Pierres and Morningside Fall by Jay Posey!
Head over to the Robot Trading Company to get your eBooks today, but before you do check the descriptions and sample chapters from each book to let you know what is in store!
Peacemaker by Marianne de Pierres
Virgin Jackson is the senior ranger in Birrimun Park – the world's last natural landscape, overshadowed though it is by a sprawling coastal megacity. She maintains public safety and order in the park, but her bosses have brought out a hotshot cowboy to help her catch some drug runners who are affecting tourism. She senses the company is holding something back from her, and she's not keen on working with an outsider like Nate Sixkiller.
When an imaginary animal from her troubled teenage years reappears, Virgin takes it to mean one of two things: a breakdown (hers!) or a warning. When the dead bodies start piling up around her and Nate, she decides on the latter.
Something terrible is about to happen in the park and Virgin and her new partner are standing in its path…
North American Print & Ebook
Amazon.com | Amazon.ca | BarnesandNoble.com | IndieBound.org
Global DRM-Free Epub Ebook
On-sale 29th April 2014 from the Robot Trading Company
Morningside Fall by Jay Posey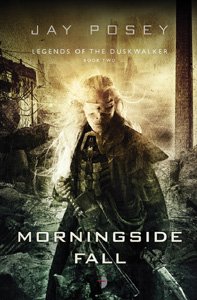 The Second Book in the Duskwalker Cycle
The lone gunman Three is gone, and Wren is the new governor of the devastated settlement of Morningside, but there is turmoil in the city. When his life is put in danger, Wren is forced to flee Morningside until he and his retinue can determine who can be trusted.
They arrive at the border outpost, Ninestory, only to find it has been infested with Weir in greater numbers than anyone has ever seen. These lost, dangerous creatures are harbouring a terrible secret – one that will have consequences not just for Wren and his comrades, but for the future of what remains of the world.
North American Print & Ebook
Amazon.com | Amazon.ca | BarnesandNoble.com | IndieBound.org
Global DRM-Free Epub Ebook
On-sale 29th April 2014 from the Robot Trading Company