It's been a busy start to the awards season for Angry Robot: Ramez Naam is enjoying 6 placements on 4 awards short-lists and NPR's best-of list, including the Arthur C. Clarke award; Cassandra Rose Clarke was short-listed for the Philip K. Dick award; The Age Atomic won the Inky Tentacle at the Kitschies; Kaaron Warren and Jo Anderton won at the recent Aurealis Awards; aaaaand Wesley Chu, Aliette de Bodard, Kameron Hurley, and our own Lee Harris and Mike Underwood are up for Hugos.
But that's not enough for us. We want MORE.
Luckily enough, we now also have Freya Robertson, winner of the Sir Julius Vogel Award for BEST NOVEL, for Heartwood!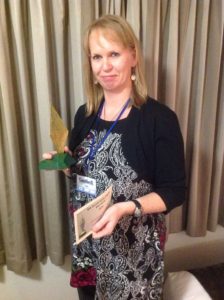 Freya was at the awards ceremony on Saturday, and was delighted to receive the award; read more from Freya on this win here at her blog. For those who have read – and loved Heartwood as much as the members of SFFANZ –  Sunstone is now available!
Click the book links for all the buying info, and click here to buy Heartwood on audio – read by Barnaby Edwards!
Please join us in congratulating Freya – and if you'd like to reach out to her on Twitter, here she is: @epicfreya!