We love a good cover reveal here at Angry Robot Books and we're really excited about this one!
The Guild of Assassins by Anna Kashina is the second book in the Majat Code Series and the sequel to Blades of the Old Empire. We know there are a lot of you out there excited to read about the continuing adventures of Kara, so without further ado here is the cover!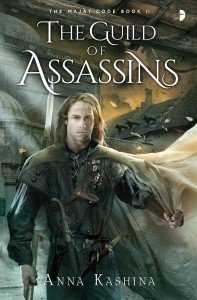 Beautifully created by Alejandro Colucci, we hope you love it as much as we do!
But we're not the only people with something to say about the cover, Anna Kashina has written us an exclusive guest post on what she thinks about it!
Have a read below: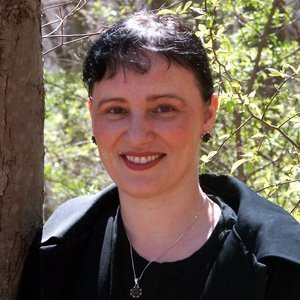 I was delighted with Angry Robot's choice to feature Mai on the cover of "The Guild of Assassins". While he is not the point of view character, he is the focal point of the story, and his choices and actions drive the conflict and the plot. He is also my favorite character in the entire series, the one that makes the writing process so much fun. I could not be happier about the way the artist Alejandro Colucci picked on all these things in the cover image.
In the novel, Mai is initially described as "too good-looking to be trustworthy", following on his descriptions from the "Blades of the Old Empire" as a man of iconic beauty, elegant and graceful. He is a superb fighter and a ruthless man. He has a dark side and not everyone in the story perceives him as a good guy. He also has a romantic side. All these contrasts are instrumental to the story. In the final cover image, the artist managed to relay all of that, and to add the extra down-to-earth touches that made this iconic man of my dreams look like a person in the flesh. He is handsome and elegant, but his clothes are also dusty and practical. His weapons are unique and beautifully crafted, but also heavy–and sharp. I love the way the artist relayed all of that.
Seeing this cover for the first time was thrilling. I felt as if my vision has been grounded into reality, the person in my mind acquiring substance. I believe this cover, showing movement and speed, featuring the central character everything revolves around, would create the right expectations for the readers, of a fantasy story with lots of action and romance (and hopefully, for some, a man to swoon over). This cover is also well in style with book I of the series and I can't wait to see how well "Blades of the Old Empire" and "The Guild of Assassins" would look side by side.
So you've heard what we think, you've heard what Anna thinks, so now the only thing to do (apart from wait excitedly for the book's release) is let us know what you think!