Back in February Andy Remic offered a free Wolf Pack to reviewers and bloggers who had reviewed his fantastic fantasy novel The Iron Wolves.
The pack included a lollypop, five bookmarks, a signed photo and an Iron Wolves t-shirt! (Modelled very impressively at the time by Mr Remic himself).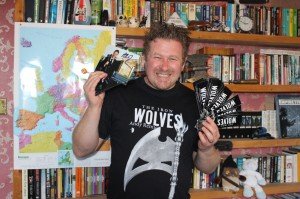 Now the Wolf Pack has begun to return to their leader (with bloggers and reviewers receiving their t-shirts) and we can bring you first photo of one being worn by someone who didn't write the book: Phil Witvliet of Grimdark reader with his dog Pluto!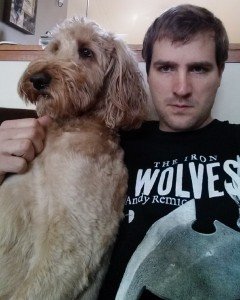 Hopefully we'll see more wolves returning home in the future so we can bring you photos of the entire pack, but for now we think Phil and Pluto set a high bar for the others!
*Once again we use the term "Modelled" in the broadest possible sense*