We already knew that Nexus by Ramez Naam was shortlisted for the Kistchies Red Tentacle Award.
Last week we discovered that Nexus was is also shortlisted for the Arthur C Clarke Award.
And this morning, we were told that both Nexus and its sequel Crux have been shortlisted for the Prometheus Award!
Come on, Ramez – give some other folk a chance!
Anyway, to celebrate the awesomeness that is both Nexus and Crux, we have decided to have a time-limited HALF-PRICE offer on the ebooks.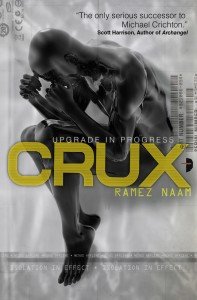 From now until the end of the month:
Kindle readers in the UK can pick up a copy of Nexus and Crux at Amazon.co.uk for just £2.74 per book! (List price is £5.49).
Kindle readers everywhere else, and those who use non-Kindle ebook readers can pick up a copy of Nexus and/or Crux for the same price at the Robot Trading Company.
(£2.74 at the Robot Trading company equates to approximately US$3.70, so not quite half price, but pretty darned close!)
Go get them now, while the price is low!