That time again folks!
2014 is already shaping up to be a great year for Angry Robot Books and this week's mega round up is taking a look back over the last couple of months to see what you guys have thought about the books we've brought to you so far.
January saw the release of Andy Remic's new novel The Iron Wolves, which grabbed the fantasy community by the throat until it begged for more books!
Before the Iron Wolves come after us too, here's what people had to say:
The Iron Wolves by Andy Remic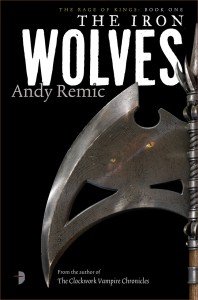 "I found Remic's latest fantasy novel to be an engaging, almost hypnotic, opus of foul sorcery and violence. I mean that in the best way possible… If you like your fantasy really really dark wherein the only vibrant color is blood red than you should definitely give The Iron Wolves a shot." – King of the Nerds!
"Holy crap, but The Iron Wolves was a hell of a lot of fun! What Andy Remic has pulled together here is absolutely genius. If you've read the cover blurb then you have some idea of what to expect but, like me, you probably wondered if he really could pull it off. Well, I am here to tell you to wonder no longer – pull it off he does . . . and then some!" – Beauty in Ruins
"Andy Remic brings grit and realism to the fantasy genre in a fascinating and addictive way. This book is well worth a read and I'm already looking forward to the next part." – Tony's Thoughts
"The Iron Wolves is a perfect introduction to a new hardcore fantasy series. It feels like we're getting the band back together. I suspect we've only just begun when it comes to unleashing bloody mayhem. Based on the evidence displayed, you can count me in. Bring it on!" – The Eloquent Page
"I loved this book. Very violent and dark, fast paced, with a hugely imaginative world and creatures. There were also major plot twists and turns which were enjoyable as so many fantasy books don't use this element. Great cast of characters who were all very interesting and unique and several were able to make me care about their stories and what happens to them. Tons of ultra powerful magic and sorcerers and a great backstory is weaved in throughout the book which will appeal to readers who enjoy these elements as do I. The writing was excellent and right to the point, in classic sword and sorcery style." – Grimdark Reader
"If Quentin Tarantino read alot of Heavy Metal comics and played Dungeons and Dragons and decided "hey, I'm gonna write a book!", this is what he would write. The Iron Wolves is a vicious, over the top violent, and throughly vulgar ripping bloodfest of a fantasy. If you wonder "is this the kind of thing I want to read?" I will answer that question for you, because I'm that kind of guy. YES. This book grabs you by various body parts and then punches you in the face when you try with all your weak little might to get loose." – Kdawg91 (Goodreads) 
In March, Blades of the Old Empire by Anna Kashina was released, becoming the the first book in the Majat Code Series.
Blades of the Old Empire by Anna Kashina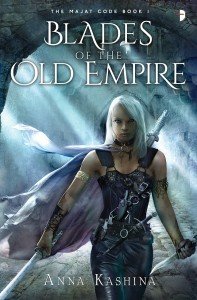 "In another great book from Angry Robot, Blades of the Old Empire follows Prince Kythar and Kara, a member of a secretive society of assassins through the tumultuous return of an old enemy. I enjoyed this book and would recommend it for anyone who likes a good swashbuckling storyline." – Alex McGilvery
"This is a magnificent work of literature. You get fast paced travel with political intrigue and danger, amazing martial arts fights of extreme skill, cultural immersion from around the world, and a little hint of romance without ruining the tough fighter feel… I really cannot express enough times how highly I recommend this story to everyone." – In Pursuit of My Own Library
"This book is action packed from the very first page, and is a good start to a series that I will look forward to reading more of." – Avid Fantasy Reviews
"The writing is so vivid that I could actually see all the scenes when I read. I think this book would make a superb movie. If you are looking for a light, fast-paced read, don't miss this book." – Lu 
"I really enjoyed this book despite not being a huge fan of romance-themed novels. I feel it is for those who want more romance in their fantasy while also getting a hefty dose of action, adventure, and intrigue… it was a good book, and well worth the read. I'll be reading this one again" – R.J. Blain
"Each scene is very well written.  Action and dialog keep the story moving at a fast clip.  The fight scenes were especially well written making it easy to see what was happening. Now I want to see what happens in the next book." – Mixed Book Bag 
"I thought the book was, on the whole, really well-written. There were quite a few scenes that I could picture really easily in my mind and there were several moments where I found it really intense and wanted to see what was going to happen. At some point, I definitely intend/want to read the other books in this series." – Sarah 
"Both Kyth and Ellah are likeable characters and it is a joy to follow their stories. A solid start to what looks to be an exciting series." – British Fantasy Society
**And if you were one of the many who loved Blades then keep your eyes peeled for important Majat Code news next week!**
And finally March brought with it not only Spring, but also The Book of the Crowman, the fantastic sequel to Black Feathers by Joseph D'Lacey
The Book of the Crowman by Joseph D'Lacey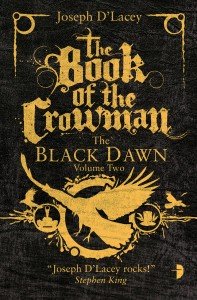 "Holy shjtsnacks this was a good novel. It is a dance between worlds of existence that overlap in surprising ways. There are moments within the novel that send clear messages about living in our current state of unawareness or choosing awareness for the sake of diminished ego by sacrificing our desires. The author weaves this message into the good vs. evil idiom on the macro scale while elevating the inner diametric towards enlightenment." – Koeur's Book Reviews 
"D'Lacey once again brings so much skill to his story: gorgeous prose, Gordon's dangerous and exciting survival story, and the drawn-out mystery of who the Crowman really is." – Books, Bones & Buffy
"There is an exceptionally short list of genre books that have had a profound effect on my way of thinking. One day I may even tell you what some of the others are. Currently however, all you need to know is that Black Feathers and The Book of the Crowman have just been added to that list. Smart insightful fiction that challenges preconceived notions and makes a reader properly think is a truly wonderful thing. This is flawlessly executed fantasy that I can't recommend highly enough. I've said it before, and I hope I get the opportunity to say it again, Joseph D'Lacey is an author who everyone should be reading." – The Eloquent Page 
"D'Lacey's stories access terror and beauty, combining to produce something exquisite. It's poetry and it's in my soul." – And Then I Read a Book
"D'Lacey has created a beautifully written book that is in part an apocalyptic tale, and also a story with fantasy elements. Whether you love Sci-Fi or Fantasy, this is a book that lovers of all types of speculative fiction will enjoy… Overall I would give this book an 8.5/10, which is the highest rating I have given so far! It is an amazing book, and I highly recommend it." – Avid Fantasy Reviews
"The author, as in the previous book, once again excels at painting a believable and followable sense of not just impending doom but the breakdown of the Earth itself. He can set a scene with minimal waste and satisfying freshness and bring it to life in a way that only the best storytellers can. While that alone would justify my recommendation, the well-drawn characters, masterful action, and genuinely dreadful scenes of horror that wrap themselves into this well-paced plot are selling points with just as much weight. Add in a memorable ending and this is one of those books that I just can't recommend enough." – After the Last Day 
So yes, 2014 has so far proven a great year for Angry Robot, and we can promise you this, it only gets better.