Afternoon fellow robots!
Today we're bringing you a round up of what people have been saying about the ultimate divine comedy: Last God Standing by Michael Boatman.
When we announced our signing of the actor and writer back in June of last year it was genuinely difficult to tell who was more excited. So it is with great pleasure that we can start bringing you some reviews of his fantastic book!
Have a look at what people said and when you've read it too, leave us a comment to let us know what you thought.
Last God Standing by Michael Boatman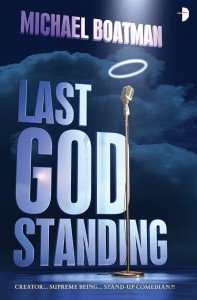 "Reading this book was definitely an interesting experience. If you are a someone who likes to read about gods, gods fighting, zombies, parallel worlds, voodoo and so forth, this is definitely a book for you." – Open Book Society 
"For me, "Last God Standing" was an enjoyable book which, while not being perfect, marks Boatman as an interesting author with a huge potential. It'll be interesting seeing where he goes next. One thing is certain – I'm sure it'll be mad as hell." – upcoming4.me 
"I really could not put this novel down. Not for the internal questions that arise out of religious processes or the characters or the story line but it was just plane funny. I love sarcastic wit and Lando does a great job delivering. I look forward to more from this author and perhaps more challenging discussions." – Koeur's Book Reviews
"There is, needless to say, quite a lot going on but it is to the author's credit that at no point does it feel rushed or crammed. There are moments that will make you chuckle, touching moments and one's to make you laugh out loud (the restaurant scene with his girlfriend and her family is a work of comedy genius in my opinion). The other plus for me is that although the main character is God the book itself is not overly religious or preachy – just a good fun read that I will happily recommend to anyone." – Andy Angel 
"In all honesty, I don't think this book will be for everyone, but if you enjoy a bit of comedy, a bit of divinity, a bit of gratuitous carnage and some general silliness in your reading, I would recommend giving this one a go." – The Book Shelf Gargoyle 
"It's a fun read and God is relatable for the first time. He's a young man in love, wanting to follow his dream and just once make his parents proud." – Elizabeth Amber Love (Goodreads)
The Sequel to Last God Standing, Who Wants to Be the Prince of Darkness? Comes out in 2015