Hello to all you robots (angry or otherwise!),
Since its ARC copies went out our 100th book Hang Wire by  Adam Christopher has been practically deluged by positive reviews.
And in honour of last night's book signing event at the Forbidden Planet Megastore in London we're bringing you some of the more recent reviews to remind everyone what a fantastic book this is!
Hang Wire by Adam Christopher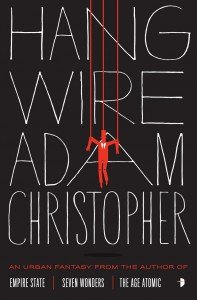 "Hang Wire is just pure fun. Yes, there are some dark doings here (something huge is awakening underground and gods are running around wearing human facades, and of course, murder), however, Adam Christopher manages to pull off the right amount of creepy (and some great action scenes) without ever getting too dark. Fans of quirky urban fantasy will devour this one. Loved it!" – My Bookish Ways
"Hang Wire is an awesome read (and that's understating it by far), from the first pages I was hooked. Not only has Adam Christopher written a great story, it is also his writing style that readily pulled me in and never let me go." – The Book Plank
"Hang Wire is flush with the sort of geek-centric weirdness and galloping, whiz-bang pace that Christopher had previously only begun to master. In spite of so many moving parts, the result is a tightly wound, dynamic piece of genre-bending machinery. If that's a metaphor for Christopher's awestruck vision of melting-pot America, all's the better." – NPR Books
"Lightning fast, overflowing with imagination and great fun to read, Hang Wire will definitely capture Adam Christopher some new fans." – The Tattooed Book
"Adam Christopher's HANG WIRE reads like Erin Morgenstern via Tim Powers, but the dark, creepy heart that beats at its center is entirely its own. It's good unclean fun, and so addictive." – Kelly Braffet
"Christopher fulfils our expectations and more: just when we think the story couldn't get any weirder, he adds a whole new layer of weird, bouncing from one unexpected moment of goofiness to another, keeping us stuck to our chairs until we think it'll take an industrial-strength solvent to pry us loose. Days after finishing the book, you'll still have a grin on your face." – Booklist Starred Review
Lets hope our 200th book is just as popular, if its anything like Hangwire we're in no doubt it will be!
(If you'd like to read some more reviews of fantastic book you can find them on our Hang Wire page).

But that's not all we're bringing you today, we're also taking a look at what reviewers have been saying about Known Devil, the third book in the Occult Investigations Series by Justin Gustainis.
Like its predecessors – Hard Spell and Evil Dark – Known Devil follows the continued efforts of Stan Markowski and the Occult Crimes Unit to keep the peace in Scranton, PA.
A lot of people were very excited for this, so lets see if it lived up to expectations.
Known Devil by Justin Gustainis
"Its quirky, has a great overall arc and when added to a criminal element goes on to show how tricky policing the unusual can be. Its definitely something that I would recommend to others and a series that has done nothing but entertain since its original release." – Falcata Times
"All in all, Known Devil is a fun book. It is exactly the entertaining, action packed, supernatural beings filled novel I was hoping for." – Luxury Reading
"I highly recommend this to people who want something a little gritty, a little dark, a bit nostalgic and different from the average Urban Fantasy novel." – Fangs Wands and Fairy Dust
"With this many different kinds of creatures in play there seems to be no end to the possibilities in this series, and I would very much like to see what Mr. Gustainis might have in store for Stan and Karl in the future." – That's What I'm Talking About
"I had a great time with Known Devil and tore through it in a single sitting" – A Fantastical Librarian
Sounds like another fantastic edition to Occult Investigation Series!