Listen up Robots, we're celebrating two book birthdays today, which means two shiny new ebooks for all you hard working robotic readers!
That's right today is launch birthday of two new Angry Robot books, Last God Standing by Michael Boatman and Sunstone by Freya Robertson!
Happy birthday to both! And in case you haven't already left to go and buy them or you can't get on the Robot Trading Company website yet, here's a description and a sample chapter of each book to let you know what's in store!
Happy reading guys!
Last God Standing by Michael Boatman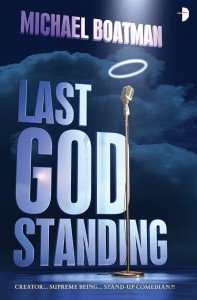 Creator. Supreme being. Stand-up comic…?!
When God decides to quit and join the human race to see what all the fuss is about, all Hell breaks loose.
Sensing his abdication, the other defunct gods of Earth's vanquished pantheons want a piece of the action He abandoned.
Meanwhile, the newly-humanised deity must discover the whereabouts and intentions of the similarly reincarnated Lucifer, and block the ascension of a murderous new God.
How is he ever going to make it as a stand-up comedian with all of this going on…?
The Ultimate in Divine Comedy…
North American Print & Ebook
Amazon.com | Amazon.ca | BarnesandNoble.com | IndieBound.org
Global DRM-Free Epub Ebook
Robot Trading Company
Sunstone by Freya Robertson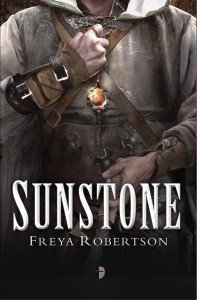 The Incendi elementals that dwell beneath the mountains have found a way to tap into the Arbor's roots, which stretch not only across the land but also through time, and King Pyra is determined to crush the ancient tree.
Twenty-two years after the defeat of the Darkwater Lords, Chonrad's widow Procella and their three children are drawn back to Heartwood to investigate the rumour of strange fires springing up across the land. Across three separate timelines, the heroes must battle to join together their ancient sunstones, to overcome the Incendi threat, and to protect the Arbor and make earth victorious once more.
North American Print & Ebook
Amazon.com | Amazon.ca | BarnesandNoble.com | IndieBound.org
Global DRM-Free Epub Ebook
Robot Trading Company