Marianne de Pierres provides us with our second piece to celebrate International Women's Day. Hope you all enjoy! Remember please comment on these posts, we'd love to get your opinions and discuss your views with you!
Story Straws Gathered and Glued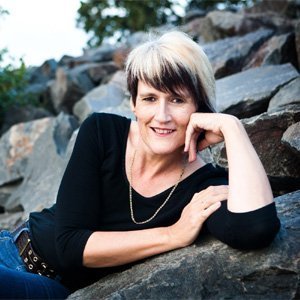 At 53 I'm not a young writer, but neither do I feel even slightly old! I have reached stage in my life though, where everything that has gone before has suddenly become something I can write about. It's quite interesting really. For many years, just living and surviving life was my mantra. I was writing and imagining stories along the way, sure, but they were stories born of desperation and immediacy – whatever was on the edge of my brain and at the tip of my fingers. Story straws gathered and glued together in the heat of now. Lots of tales about women surviving oppression, as I indeed felt that, as both a mother and a woman in a still largely patriarchal society.
More recently, the stories are coming from a different place. They're a spring bubbling up from a deeper reservoir inside me. Take PEACEMAKER, for instance. The story was inspired by reading the full set of Zane Grey novels at the age of sixteen and Mythago Wood by Robert Holdstock in my twenties – an unlikely combination. My recent Night Creatures YA series turned into an exorcism of old boarding school demons, and just the other day, I just wrote a short story (still unpublished) based on an incident that happened when I was 13. WTF?
With the change, I'm noticing a maturity in my work. For the first time since I became a writer, I have the opportunity to actually think and reflect and even tentatively speculate rather than just lash out and crack whips. Maybe that really is a sign of age. Whatever the case, writing has taken on a meta-appeal for me, as I wait to see what the inner well will let escape and float to the top next. Who needs therapy when a good book will do?
I'd really love to hear from other writers and bloggers on their own thoughts and experiences.