Part Three of our celebration of International Women's Day comes from Anne Lyle. Any Doctor Who fans out there are really going to enjoy this one!
Doctor Who Girl
Last year we celebrated the fiftieth anniversary of the world's longest-running SF TV show. We were also treated to a new Doctor in the shape of Peter Capaldi, whose costume and publicity photos owed more than a little to his 70s predecessor, Jon Pertwee. Perhaps because of this, and of course all the nostalgia-laden documentaries shown last year, I found myself looking back fondly at the Doctor Who of my youth.
Of course some of us have been around since the show's earliest days, even if we were maybe a bit too young to watch it back when William Hartnell made the role his own. I guess I must have become a regular viewer late in Patrick Troughton's stint, or early in Jon Pertwee's, because I have vivid memories of hiding behind the sofa (or at least, my granny's chair) during the opening credits with the rippling tiger-stripe pattern – I was more spooked by the music than by the show itself!
The first episode I actually recall seeing is "The Green Death" (1972), starring Jon Pertwee as the Third Doctor, but for me the definitive Doctor will always be Number Four, played by the incomparable Tom Baker. He was the longest in the role, and with his immensely long striped scarf remains the iconic image that even non-fans recognise.
However the element of the Fourth Doctor's reign that stands out for me is his companions. First, of course, there was Sarah Jane Smith. As the companion of Number Three, she had fitted neatly into his predominantly Earth-based episodes in her role as an investigative journalist. The wider-ranging adventures of Number Four finally gave her a chance to venture further afield, but she remained a down-to-earth young woman who stood up to aliens as boldly as she had to rogue scientists. Sarah Jane was a great role model for girls of my generation, and it's so cool that she eventually went on to have spin-off adventures of her own. Elizabeth Sladen is sorely missed.
Every companion's time with the Doctor has to come to an end, though. In 1976, he left her in England when he was obliged to return to Gallifrey. He spent one adventure ("The Deadly Assassin") alone, then in "The Face of Evil" he encountered a savage tribe, survivors of a shipwrecked survey team, and acquired a new companion, Leela.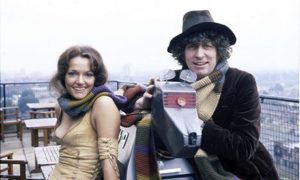 On the face of it, Leela was clearly designed to appeal to the dads in the tea-time audience, with her skimpy leather tunic and long, long legs, but at the same time she resonated with young female viewers like me. Leela didn't dress in frills and scream at aliens – she drew a knife and attacked them! She wasn't just a dumb savage, either. Leela was intelligent and a fast learner, providing a strong foil to the Fourth Doctor's eccentricities. I confess I was disappointed when the writers chose to end her story by marrying her off to a Gallifreyan guardsman, but at least she got to keep K9!
I'm currently rewatching the Tom Baker episodes from the beginning. Yes, they're a bit stilted, and the shoestring budget makes for some rather comical moments, but they stand the test of time pretty well. I can only hope that the Doctor's newest incarnation acquires companions who will serve him as well as Sarah Jane and Leela did.
Now, if you'll excuse me, I have a nine-foot-long scarf to knit…