And that's not something you get to type every day!
Last night saw the fifth Kitschies Awards at a packed venue in Covent Garden. The Kitschies reward the year's most progressive, intelligent and entertaining works that contain elements of the speculative or fantastic. Nexus by Ramez Naam was shortlisted for the Golden Tentacle Award (debut novel). And Will Staehle's brilliant cover to Adam Christopher's The Age Atomic was shortlisted for the Inky Tentacle Award (cover art).
In a hugely-competitive shortlist, Ann Leckie's Ancillary Justice won the Golden Tentacle, but Will's cover (right – click to biggerify it) won the Inky Tentacle! Both Will and Ramez will receive a bottle of Kraken Rum (*turns to face camera*: The Best Rum And No Mistake). As category winner, Mr Staehle will also receive a nice cheque (or check as he's in the US) for £500.
You can find the full list of nominees and winners, at the Kitschies website.
And here's the tentacle, held beautifully by a professional hand model, hired with no thought given to the cost, and not Angry Robot's Lee, who apparently doesn't know how to iron sleeves, no, not him at all: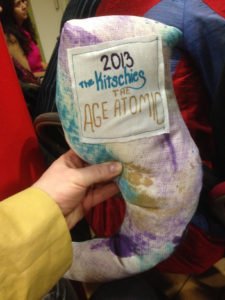 UPDATE:
After browsing the Kitschies Awards site, it appears that we are the only publisher to have ever won more than 2 Kitschies Awards (we've won one in each of the three main categories – Novel (Zoo City by Lauren Beukes), Debut (King Maker by Maurice Broaddus) and Cover Art (see above) – a feat unmatched by even the biggest publishers in the world). We're also the only publisher to have more than 5 works shortlisted since the awards' inception (and this includes the first year, when we couldn't be shortlisted for anything, as we hadn't started publishing at that point). That feels like a good reason for another shot of rum… 🙂