Please welcome Craig Cormick to the blog as he chats about his recent experience at the Key West Literary Seminar. Craig's book, The Shadow Master, will be available on 24 June.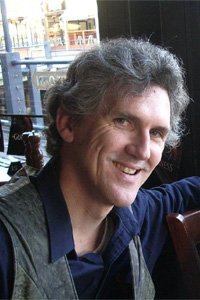 So what makes a REALLY good readers/writers conference?  I'll let you in on a terrific secret: Key West.
But first the back story: So I was looking for a top-notch literary festival or workshop to go to, to put a bit of a recharge into the writing batteries.
Number one on my list was one of the Clarion workshops – but I just couldn't get the timing to work out for me.
Then a friend of mine, the awesome Cat Sparks, told me about the Key West Literary Seminars that she had attended two years ago, taking part in a workshop with Margaret Atwood.
My first reaction was, 'Where is Key West?' Google Maps showed me a looooong, loooong chain of islands stretching from Miami towards Cuba, all linked by a series on long bridges. (Remember that scene in the Arnie movie True Lies, with Jamie Lee Curtis trying to get out of the roof of the limo as it careened all over the place on this looooong, loooooong bridge?)Over 100 miles long, the Overseas Highway ends at Key West.
As Cat advised me – if the workshops you enroll in don't really work out for you, they also run seminars with world-leading authors – and if the seminars don't work out for you, well Key West is about the coolest place on the planet.
Ernest Hemingway certainly thought so, when he lived there, writing most of his books in a loft studio next to a large two-storey house that is now Key West's number one tourist attraction.
As it turned out – the workshops were pretty good, the seminars were great and the Key West was in fact the least cool place in the USA (at least in terms of the Arctic front that swept down over all of the USA during January, stopping just short of Miami and the keys. Otherwise Key West is about as cool as it can get: gorgeous white wooden houses, roosters and cats walking freely like they own the place, bands and musicians in all the bars and bars everywhere, and most everything just a walk or bike ride away. Key West also has an annual Fantasy Festival that has to be seen to be believed. Google Fantasy Fest, but be warned to have your content filters either on or off depending on your preferences.
It wasn't hard to see why the likes of William Gibson, Lee Child, Tess Gerritsen, John Banville, Lisa Unger and Michael Connelly fly south for the seminars.
Interestingly, although this year's seminars had the theme of the Dark Side, concentrating on crime and thriller writing, much of the discussions and advice to authors applied across genres.
Some of the worlds of wisdom worth sharing include:
–          Hemingway's adage of write what you know can be supplemented with make up what you don't know (Elizabeth George)
–          Imagination is the most powerful tool we have as human beings and we must use it as much as possible (John Banville)
–          I thought, what am I if not this? (Lisa Unger on striving to make it as a writer)
–          And one of my favourite, a thought raised by Booker Prize winner John Banville in a panel discussion that wouldn't be out of place in any Angry Robot publication:
I have this feeling that we weren't meant for this world we live in. We are somehow living on a beautiful world not meant for us. We are the most effective virus ever released on this planet. So, the people who were meant to live on this planet, how would they have coped – these gentle earthlings – living on a world that was meant for us? – Surely they'd be extinct.