WIN 100 EBOOKS!
Earlier this month we published Angry Robot's 100th book (Adam Christopher's Hang Wire), and we've had lots of special offers and competitions with various online and offline partners. Today we're running our last competition.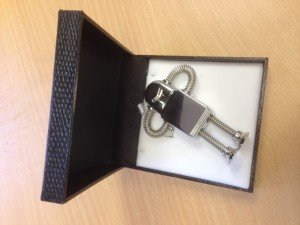 This competition is not open to residents of the US and Canada (though residents of Quebec may enter)*, but if you live anywhere else in the world you may enter.
The prize? Each of the first 100 Angry Robot ebooks on a shiny robot USB stick (click here for the full list).
How To Enter
Simply leave your favourite joke in the comments section, below, and once you've done it copy and Tweet the following:
Happy 100th Book to Angry Robot. Read my favourite joke at http://tinyurl.com/Angry100 #AR100
You get one entry for leaving your joke, and one extra entry for Tweeting. If you don't have a Twitter account, don't worry, you can still enter – you just get one name in the hat, instead of two.
Competition is open until we get into the office around 8.00am GMT on Monday 3rd March. We'll announce the winner soon after.
—
*The magnificent folk at the equally magnificent Tor.com ran a similar competition (with the same prize) for residents of the US and Canada (excluding Quebec), so we thought it fair to let everyone else have a turn.