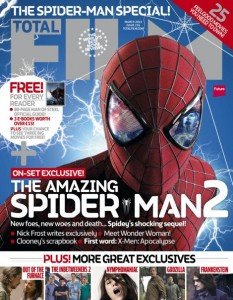 January's issue of Total Film not only features on-set exclusives for Spider-Man 2, interviews with Colin Farrell, and reviews of The Hobbit: The Desolation of Smaug but excitedly, there is a FREE eBook of Ramez Naam's Nexus for every reader!
In 2013, the screen rights to Nexus, Ramez's nanotech mind-control novel, were acquired by Paramount Pictures, with the project to be produced by Mary Parent and Cale Boyter through their Disruption label and Darren Aronofsky and Scott Franklin through their Protozoa banner. Rights acquisitions don't always mean the movie will come to fruition, but with such fantastic names involved, it's worth celebrating again!
Lucky Total Film readers can also download copies of Exhibit A's Scare Me by Richard Parker which was bought by Relativity Media with Wentworth Miller adapting the novel for the big screen, AND Strange Chemistry's Blackwood by Gwenda Bond which MTV has put in development, from Lionsgate Television and Kelsey Grammer's Grammnet Prods.
Have you read these books? Did you know about their TV/movie potentials? Pick up a copy of this month's Total Film – either online on Apple or here's where you can order your print copy – and find out how to download your free copy of these books!