Happy New Year everyone!
It's our first round up of 2014, so we thought we'd take a look at your favourites from last year. What got everyone talking in 2013?
Your Best of 2013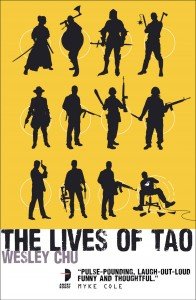 First off, The Lives of Tao by Wesley Chu has made it into a few of your favourites piles, and was even voted into the top ten science fiction books in the Goodreads Choice Awards! Badass Book Reviews included it on their Best Science Fiction of 2013 list. My Bookish Ways and Staffer's Book Review both also named it a top debut of 2013. Justin of Staffer's Book Review says:
"8 months ago I called The Lives of Tao 'the most fun I've had this year.' Fast forward to today and it's still true. He [Chu] succeeds because he's got a clever voice, full of subtle wit and kinetic pacing." (Staffer's Book Review)
The reviews for this book have been phenomenal, so it's definitely one series to catch up with if you missed it!
Three by Jay Posey is another favourite. Jasper of Book Plank says: "It is not only the world that makes Three interesting, the characters are spot on and only further help make this story a winner", and Tabitha of My Shelf Confessions says: "You seriously do NOT want to miss this debut!" We agree!
Next up is The Big Reap by Chris Holm. The Founding Fields and My Bookish Ways both included it in their top books of 2013 lists, and both bloggers, S.J. and Heather, over at Snobbery picked it to top their list as one of their two Super Best Books of 2013! Wow!
Now, let's just talk for a moment about Between Two Thorns and the Split Worlds series by Emma Newman. Between Two Thorns was a hit with so many of you, and not only that, but it was also listed in NetGalley's Top Ten of the Year! The Founding Fields, My Bookish Ways, and A Fantastical Librarian are just a few of the blogs that included it in their best of lists. Justin at Staffer's Book Review also gave the gorgeous cover by Sarah J. Coleman a mention in his Best Cover Art post.
The Mad Scientist's Daughter by Cassandra Rose Clarke also receives some great mentions in your best of lists, with characters that are "vibrant and real" (Badass Book Reviews). Mieneke of A Fantastic Librarian saying this about it:
"The Mad Scientist's Daughter is stunning. A gorgeous exploration of love, the ability to feel it and other emotions, and the lies we tell ourselves in order to attain happiness that probes the border between human and AI to see how far they stretch." (A Fantastical Librarian) 
Other books that have made it onto your lists include She Returns From War by Lee Collins, Seven Forges by James A. Moore, Prince Thief by David Tallerman, The Blue Blazes and The Cormorant by Chuck Wendig, in fact anything by Chuck Wendig, The Prince of Lies by Anne Lyle, and The Age Atomic by Adam Christopher, Black Feathers by Joseph D'Lacey, and Any Other Name and All Is Fair by Emma Newman.
And finally, Angry Robot is given a lovely mention over at Adventures Fantastic in their 2013 Publishers post: "Angry Robot keeps pushing the boundaries of the genre". And our very own Lee Harris is included in Staffer's Book Review's Editor of the Year post:
"This year Harris rolled out Clonefiles, a program where Angry Robot and certain independent bookstores partnered up to send a free eBook to match purchased hard copies. Harris has also grabbed a hold of open submissions to great success, publishing folks like Cassandra Clare and Wesley Chu." (Staffer's Book Review)
EDIT (BY LEE)
Eek. I've just seen this. It behooves me to mention that when that "Editor of the Year" post went live at Staffers Book Review I posted in the comments section:
I should point out that the Clonefiles programme mentioned is being spearheaded by our very own Mike Underwood, and it is he, not I, that should get the acclaim for that, and our open submissions project is very much a team effort with my colleague Amanda Rutter doing more than anyone to ensure the success of that particular workstream…
Credit where it's due…