Hi everyone,
It's round up time again and this week we're taking a look at all the fantastic awards and nominations our authors have been getting lately!
The Mad Scientist's Daughter by Cassandra Rose Clarke
First up, we're so excited that The Mad Scientist's Daughter by Cassandra Rose Clarke has been nominated for the Philip K. Dick award! What is it about this book that readers and critics love so much? Here are just a few of the many amazing reviews:
"You won't be the same after you read The Mad Scientist's Daughter, trust me. […] Rich, complex, and delightfully-developed, The Madman's Daughter opens up new worlds of possibility and does so with elegance and grace."
-s.e. smith, at this ain't livin'
"The characters are what drives this story, whether it's Cat struggling through life, her mad yet grounded and caring father, the friends and lovers Cat meets throughout her life, or Finn, the android who doesn't want to be human yet seems like the most perfect creation."
– Katherine Stubbs, Shades of Sentience
"One of the most heart-clenching and gut-wrenching love stories I have ever read. I bet no-one reading this review has ever read an unrequited love story where the love is only unrequited because science has not made it possible, yet. Heart meet knife! Clarke's exploration of human nature versus science versus faith versus the disingenuous youth are the reasons this book needs to be read and loved by everyone."
– Vicki, Open Book Society
"I urge you to read this book, it will haunt you and stay with you for a long time. It is very hard to believe that this is only the author's second novel – bravo Miss Clarke!"
– Wendy of the Geek Syndicate
"The twist is that the cool, rational Finn is a robot, and Cat's love for him is unrequited because she ages while he does not, and he is not programmed to respond to her emotions. It's a neat premise and Clark examines the ramifications with the precision of a poet".
– Eric Brown, The Guardian
"It's not a story of future heroism. It's not even, really, a story about robots. It's a story of live and failure and expectations. It is, perhaps, in its relentless examination of one woman's life, one of the most realistic science fiction stories ever told."
– Michael Ann Dobbs for IO9.com
"Cat is a finely etched character, difficult, distant, and living in denial of her true feelings for years … Cassandra Rose Clarke does a fine job of staying inside her protagonist's head, and capturing what it's like to drift through life without the will or the opportunity to make the best decisions."
– Adam-Troy Castro, Sci Fi Magazine (print only)
"The Mad Scientist's Daughter reminded me of a couple of books I haven't read in years, books I loved dearly that still haunt me. It has the strange feel of Geoff Ryman's The Child Garden, a terribly sad story that was ultimately so rewarding. It also sparked some of the same emotions I feel while reading anything by China Miéville."
– Tammy Sparks, Books, Bones & Buffy
"This book is about LOVE mostly and family, betrayal, emotion and what happiness means, but so totally science fiction. It is an amazing book and I enjoyed so much that I will be looking for more books by Cassandra Rose Clarke."
– Katie Turner, Turner's Antics
"At it's heart, it's a beautifully written story, not only exploring the complexities between Cat and Finn, but also her changing relationships with her parents, and the other men who enter her life."
– Michelle, BCF Book Reviews
"I read this book with a constant sense of impending doom…I expected disaster and drama around ever corner. But this isn't one of those books. This book is more subtle, a much more realistic picture of an imagined world, and I loved it."
– Leah at LeahRhyne.com
"Cassandra Rose Clarke has proven she can write with the best of them in this one and I expect this was just a taste of what is to come from her."
– Liam, The Troubled Scribe
"this book is heavy on the romance side. The science fiction element is there but very subtle but not as much until it becomes superficial. Instead, it gives the story this otherworldly quality."
– Zuleeza at **QWERTY**
Nexus by Ramez Naam
Second, the fantastic Nexus by Ramez Naam has been nominated for the Golden Tentacle (Debut) award in the Kitschies! Congratulations also to the wonderful Will Staehle, whose cover art for The Age Atomic by Adam Christopher has been nominated for the Inky Tentacle.
Here's what just a few people have had to say about Nexus:
"Ramez Naam's debut novel Nexus is a superbly plotted high-tension technothriller about a War-on-Drugs-style crackdown on brain/computer interfaces … full of delicious, thoughtful moral ambiguity … excellent spycraft, kick-ass action scenes, and a chilling look at a future cold war over technology and ideology, making a hell of a read."
– Cory Doctorow, BoingBoing
"It's good. Scary good. Take a chance and stop reading now and have a great time reading a bleeding edge technical thriller that is full of surprises."
– James Floyd Kelly, Wired.com's GeekDad blog
"a fast, fun read which is both emotionally engaging and thought-provoking. You'll be mulling over the implications of Nexus — the book and the drug — long after you put the book down."
– Annalee Newitz, IO9.com
"Naam displays a Michael Crichton-like ability to explain cutting-edge research via the medium of an airport techno-thriller."
– SFX Magazine
"the action scenes are crisp, the glimpses of future tech and culture are mesmerizing"
– Publishers Weekly
"Mr. Naam sees all the angles of future technology almost too imaginatively to keep up with … Nexus joins Paul McAuley's Fairyland (1995) as a double-edged vision of the post-human."
– Tom Shippey, Wall Street Journal
"This sophisticated page-turning techno-thriller is one of my favorite stories of all time … Naam is remarkable in his ability to address deep philosophical concepts while keeping the story line light, fast, and action-packed."
– Stephen L. Macknik, Scientific American Illusion Chasers blog
"Naam, an expert in new technologies and author of More Than Human: Embracing the Promise of Biological Enhancement (2005), turns in a stellar performance with his debut sf novel … Naam has set himself a difficult challenge here: he's telling a story in which much of the action and dialogue takes place inside the characters' minds. But he succeeds admirably".
– David Pitt, BookList
"a very readable book … deals with real world ramifications of next-generation technology in a believable, if somewhat scary, fashion. It's accurate without being boring, and action-packed without being trite or vapid."
– Matthew S. Dent, Interzone
The Lives of Tao by Wesley Chu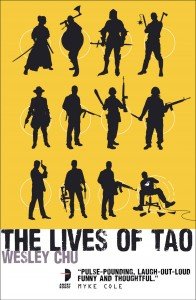 The Lives of Tao by Wesley Chu, which has not only been receiving amazing reviews but also made it into the top ten of the Goodreads Choice Awards science fiction novels of 2013, has now been given an Alex (ALA) Award for adult books that appeal to teens! Want a reminder of why Tao is getting so much love?
Since the moment I finished Wesley Chu's debut novel, The Lives of Tao, I called reading it 'the most fun I've had this year.'
– Staffer's Book Review
Note to James Patterson fans: this is how to write a sci-fi page turner.
– Sci-Fi Bulletin
A sci-fi thriller this may be, but it has a lot of emotional depth to it.
– Fantasy Faction
Wesley Chu's debut novel The Lives of Tao is a fun book that will appeal directly to those who enjoy Charles Stross's Laundry novels (2004-).
– Strange Horizons
The Lives of Tao is a fun book with a lot of energy and it really worked for me. Full of action, adventure, martial arts, gunplay, and large quantities of geeky goodness. I would recommend this book to anyone looking for something a lighter than the current swathe of serious sci-fi / fantasy.
– Fantasy Book Review
An exceptionally entertaining book, Chu's writing is easy to consume and leaves you wanting more.  Definitely one to read, and an author to watch.
– British Fantasy Society
…makes this book what it is: one of the freshest, most fun debuts I've read in quite a while!
– My Bookish Ways
I think this is one of the best amalgamations of SF, Thriller, buddy-stories, comedy and other genre assortments, which was even more impressive because it's a debut and is funny as hell. The story is a nice one with a bit of everything to satisfy most readers, beginning with characterization.
– Fantasy Book Critic
We need to be able to identify with what's going on, and while sci-fi has historically given us a vehicle to discuss some very serious things by using the unreality as a smokescreen (female officers on the Enterprise and whatnot) to tell a really compelling and interesting story in science fiction, the window dressing of future worlds and alien species needs to still allow reasonable suspension of disbelief and Chu absolutely nails it.
– Speculative Post
"Vividly entertaining, this is a book that looks past the lively and thrilling glamour of life as an international spy and also merges several genres together into a cohesive whole to tell a story that rocks from start to finish."
– The Founding Fields (Shadowhawk)
"The Lives of Tao by Wesley Chu is a very interesting book, and right from the start you will find yourself drawn into the strong narrative and the interesting characters."
– The Founding Fields (Bane of Kings)
You guys, this book was just AWESOME. I literally don't have a single complaint about it. It was an action-packed, fun-filled joy ride and I can't wait to see what's next in store for Roen and Tao.
– Sarah Says Read
It's easy to forget about all of that science fiction stuff when you are busy laughing at and cheering for Roen Tan. And that, more than anything else, makes The Lives of Tao one of the best debuts I've read this year.
– The 52 Review
Pantomime by Laura Lam
Lastly, we wanted to mention one of our Strange Chemistry titles that has also been pulling in a lot of praise and awards nominations recently. Pantomime, a YA fantasy novel by Laura Lam, has been shortlisted in the 2014 NE Teen Book Award, nominated for the 2014 ALA Popular Paperbacks List in the GLBTQ category and the 2014 Cybils Award, and has been announced in the final 2014 Rainbow List! Wow! So what makes Pantomime so special? Here is just a small selection of what people have been saying:
"Pantomime by Laura Lam took me into a detailed and exotic world, peopled by characters that I'd love to be friends with . . . and some I'd never want to cross paths with."
– Robin Hobb, author of the Farseer trilogy
"Ancient myths, vintage tech and living wonders abound in the riotous carnival of fancy which is Pantomime. Lam paints her world with greasepaint and stardust while exploring the notion of the circus 'freak' with subtle brilliance. A spectacular and brave debut!"
– Kim Lakin-Smith, author of Cyber Circus
"The atmosphere of R.H. Ragona's Circus of Magic is everything that I have been missing in other circus reads of late . . . It's a brave book and one that deserves to be read by a wide audience."
– Ellie @ Curiosity Killed the Bookworm
"These characters are brilliant . . . You can't help but fall in love with each of them in turn . . .  A completely eye-opening, enthralling debut."
– Joanne @ Once Upon a Bookcase
"Pantomime is a dark, gritty world where all the fun of the fair can turn sinister at any time."
– Hannah @ My Book Journey
"A fantastic read, a stunning debut and a jaw dropping secret! I cannot wait for book two."
– Kirsty @ The Overflowing Library
"If there's ever a book that you need to rush out and pre-order this is it . . . Pantomime is quite possibly one of the best fantasies of its type I have read this year."
– Raimy @ Readaraptor
"Read Pantomime and know what good fantasy can be: intricate, heartbreaking and heartwarming. The best new book I've read this year."
– Andrew Hook
"Pantomime has all the magic and mystery of The Night Circus . . ."
– Maria M. Elmvang
" I actually stayed up to the early hours of the morning because I just needed to know what was going to happen . . . Pantomime is a fascinating, exciting, thought provoking, colourful read."
– Leanne @ District YA