Hey everyone,
Round up time again, and this week we're taking a look at our 100th book(!), Adam Christopher's Hang Wire. We've been getting some great reviews, and there are also some cool competitions running to celebrate 100 Angry Robot books!
Hang Wire by Adam Christopher
We've had such a great response to Hang Wire, but before we dive into what you guys have been saying about it, let's take a look at some of things Adam has been up to.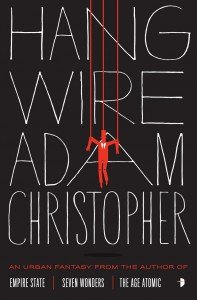 Adam talks superheroes on the Reader/Writer podcast, and over at BRSBKBLOG, Peter Sutton asks him a few questions about Hang Wire and his writing. Hang Wire also gets a mention in SF Signal's Mind Meld: Books We Can't Wait to Read in 2014!
Meanwhile, we're running a giveaway for Hang Wire  over on Goodreads, with ten copies to send to lucky winners! Adam is also running his own fantastic pre-order competition on his site, with plenty of goodies to be won.
But that's not all! Want to win all 100 Angry Robot books? To celebrate the release of Hang Wire, our 100th book, readers of Tor.com in the US and Canada (excluding Quebec) can win a flash USB drive containing all 100 of our books (plus a few extra surprises). Enter over on Tor.com here. And for readers everywhere else, don't worry – we have something coming for you very soon!
And don't forget, Adam will be signing copies of Hang Wire (with special limited editions available at the event) at Forbidden Planet's London Megastore at the launch party on Thursday 6th March, from 6 – 7pm!
Phew! On to the reviews…
"The sheer volume of ideas is dizzying… an enjoyably fast-paced read."
– SFX Magazine.
"Christopher fulfils our expectations and more: just when we think the story couldn't get any weirder, he adds a whole new layer of weird, bouncing from one unexpected moment of goofiness to another, keeping us stuck to our chairs until we think it'll take an industrial-strength solvent to pry us loose. Days after finishing the book, you'll still have a grin on your face."
– Booklist Starred Review
"To put it simply, this is one of the best sci-fi novels in years. Try this one out, it's a worthwhile experience and one that beats any number of Hollywood blockbusters for pure originality and panache. A fantastic read."
– Kafka's Cage
"There's only so much praise you can heap on a book, and I'm going to lay it on thick here. HANG WIRE is a damn cool book. It's the perfect example of deep and well thought-out characterisation, diversification, multi dimensional plotting, and clever (and at times poetic) writing. "
– Just A Guy That Likes To Read
"The plot within Hang Wire is just as original as his previous work and like before, he loads it up on characters and ideas … it's a fun novel with a hell of an interesting cast."
– EveryReadThing
"[Hang Wire] feels like an old story, but one told in a fresh and relevant way. Which to me means it is excellent storytelling. It could be read as almost anti-science or anti-science fiction even (anti- as in opposite, not against), reflecting past-times when horrors such as earthquakes and comets were explained by supernatural events … So, what is Hang Wire? A very good piece of storytelling. A damn fine read."
– Geek Syndicate
"Hang Wire tells a number of tales all at once. It's a detective story, a horror, a little bit of science fiction and a lot of urban fantasy. It's a heady mix and throwing all these elements together means Adam Christopher is able to keep things rolling along at a hell of a pace."
– The Taichung Bookworm
"An excellent read, Adam Christopher once again reminds us why he is your go-to writer for awesome urban fantasy as he crafts an unputdownable tale that makes Angry Robot's 100th Novel an excellent read!"
– Bane of Kings, The Founding Fields
"It kept me on my toes and kept me wondering who it and they were. I also enjoyed the dash of mythology thrown into it and the sense of the mystical that the circus theme always brings."
– BookCharmed
"It's an absorbing read … The pacing is really good: there was never a point where I could put it down and not wonder what was coming up next."
– The Bibliophibian
"The worldbuilding is light but effective and the plot runs along at a fair pace with some great imagery … Overall – being an Angry Robot book you expect it' to be pacy and intelligent with good plotting and Christopher really delivers. Recommended."
– BRSBKBLOG