Hi folks,
It's round up time again and this week we're taking a look at all the fabulous reviews we've been seeing for Chuck Wendig's new Miriam Black book, The Cormorant. This is the third in the Miriam Black series, beginning with Blackbirds and Mockingbird. You've been loving this book! Here's why:
The Cormorant by Chuck Wendig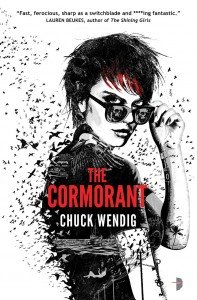 "Miriam's story remains an undeniably addictive one, and I finished this in one sitting. Wendig's writing is better than ever, and this series continues to surprise and terrify in equal measure."
– My Bookish Ways
"My immediate urge here is to just go on at length about how great this book was. And it was, I absolutely loved the hell out of 'The Cormorant'"
– Graeme's SFF
Read an interview with Chuck on Cabin Goddess, where he talks The Cormorant, Miriam, and all things Chuck. And learn how to make The Miriam Negroni!
"The Cormorant really feels like the book where Chuck Wendig decided to out-do himself. There's something Tarantino-esque about the way he hunts down the extremes of darkness and violence and then kicks them just a little bit further down the road to blood-red insanity. It's as if he was turning up the "Crazy" button, discovered it went all the way to 11, and then the button came off and it just kept escalating until, well, until the book was done. It's a spectacular ride"
– Tor.com
"Chuck Wendig writes a goddam good book … I really dug this book and dug what it did and I dug how it explored further and expanded on the ideas he built in the other books. It's a great continuation of a really, really good storyline."
– Booked Podcast
"The third book in the Miriam Black series goes up another level. As per usual the humour is wickedly black. If you haven't read this series yet jump on the band wagon now!"
– Bite The Book
"Wendig's writing, as usual, is inordinately exquisite throughout this book. The master of the metaphor, Chuck paints scenes you can feel, a veritable Bob Ross on an LSD-laced speed binge. Characters pop out of the page, each voice unique to its owner, each owner colorful, meaningful, and truly existing in the world beyond the purpose they serve to the story."
– Tree is a Tree
"The acerbic wit of Miriam and the variety and ingenuity of her visions, which made the previous volumes such fun, are again in evidence, but Wendig takes the opportunity this time around to further explore Miriam's personal history, in particular her relationship with her mother. Secrets are revealed and Miriam's own perceptions and recollections are challenged in a series of scenes that illustrate the author has the skill for the tender character-based moments as well as the adrenaline pumping action scenes."
– Ross Warren, This Is Horror
"[Chuck is] like a jazz drummer who just keeps riffing…it all comes tumbling out as if he was Jack Kerouac, cranked up on Benzedrine and writing "On the Road" on a single roll of paper without stopping from beginning to end. Is it clear yet that I think he's a really good writer? Just checking."
– Terry Irving, author of Courier
"If you like dark urban fantasies tinged with blood and murder, Wendig's Miriam Black books are perfect for you. And if you think there's no way you'd want to read them, I still urge you to try – you, like me, may find something that keeps you coming back for more in these novels."
– Speculating on SpecFic
"What can I tell you about a book that I waited with bated breath for? A book that I stared longingly at the Amazon page over, dreaming that I could reach through and pluck it our of the sea of ones and zeroes. What can I tell you about the third book of a series that I have come to love so much they sit snuggled up against all my other favorite writers. I can tell you that this book was the best so far."
– Adventures of a Military Housewriter
"I described the first Miriam book as GrittyDarkFast!, so I suppose I should call The Cormorant GrittierDarkerFaster!, but that doesn't take its full measure. This book is brutal and I finished it feeling like a dirty, over-wrung dishtowel. Can we go again?"
– CheffoJeffo
"This is the best Miriam Black book so far … I have to imagine that the author has a blast writing this character. Miriam has such a desire to make things right, but always seems to get in the way of her good intentions. I'm very excited about the promise of what is to come in the fourth book."
– iamjanesheart
"Here's the deal: I love these books because I've never read anything like them. Miriam Black is not just an anti-hero, she's a take-no-shit, hell-talking, bad-ass motherfucker. And that is rare in a female protagonist."
– Everyday Jetsam