Hi folks,
Very excited today to introduce you to our latest NetGalley ARC – Last God Standing by American actor Michael Boatman! You may know Michael from his roles on Spin City, Anger Management, Gossip Girl, The Good Wife, and Instant Mom, and now you can find out what his debut fantasy is like!
This book is serious fun, and we cannot wait to hear what you think. So what are you waiting for? Get requesting!
Last God Standing by Michael Boatman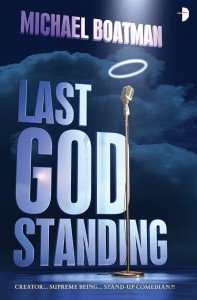 When God decides to quit and join the human race to see what all the fuss is about, all Hell breaks loose.
Sensing his abdication, the other defunct gods of Earth's vanquished pantheons want a piece of the action He abandoned.
Meanwhile, the newly-humanised deity must discover the whereabouts and intentions of the similarly reincarnated Lucifer, and block the ascension of a murderous new God.
How is he ever going to make it as a stand-up comedian with all of this going on…?
File Under: Fantasy [ Gods Behaving Badly | Power Struggle | The Way He Tells 'Em | Simply Devine ]