Angry Robot is thrilled to announce the acquisition of two fantasy books from Craig Cormick. The worldwide rights deal including dramatization and translation was negotiated by Managing Director Marc Gascoigne and Sally Bird of the Calidris Literary Agency in Victoria, Australia. The first of this two- book series, The Shadow Master, will be released in July 2014, and the sequel, The Floating City will follow in March 2015.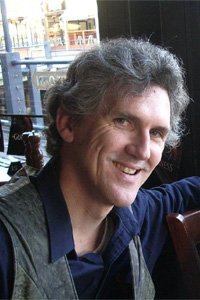 Craig Cormick: "I thought Angry Robot books was actually Angry Rowboat Books – and was all ready to send them a manuscript on grumpy boatmen, but was told I had the name wrong. Then I thought they were Angry Reboot books and I was writing a manuscript on dealing with computer crashes – until I met Marc Gascoigne at the Conflux conference in Canberra in 2012, and he explained how to pronounce it correctly – so I sent him my Shadow Master book. I love tinkering with history in my work, playing with genres and hiding subtle jokes in the stories. Being published by Angry Robot books is a huge buzzzzzzzzz!"
Marc Gascoigne: "I'm really taken with Craig's novel – it's clever yet retains a wild sense of fun. It's very much in the Angry Robot tradition of mashing up different genres and would make a thoroughly entertaining TV show too (hinty hint)."
The Shadow Master
In a land riven with plague, in the infamous Walled City, two families vie for control – the Medicis with their genius inventor Leonardo; the Lorraines with Galileo, the most brilliant alchemist of his generation.
And when two star-crossed lovers, one from either house, threaten the status quo, a third, shadowy power – one that forever seems a step ahead of all of the familial warring – plots and schemes, and bides its time, ready for the moment to attack…
File Under: Fantasy
About Craig: Craig Cormick is an award-winning author and science communicator who works for Australia's premier science institution, the Commonwealth Science and Industrial Research Organisation (CSIRO). He is a regular speaker at science communication conferences and has appeared on television, radio, online and in print media. As an author he has published over a dozen works of fiction and non-fiction and over 100 short stories. His awards include an ACT Book of the Year Award and a Queensland Premier's Literary Award. His most recent book is the young adults novel Time Vandals (Scholastic 2012).
Contact:
Translation enquiries, contact Rights Executive Suzannah Brooksbank: SBrooksbank@ospreypublishing.com
Publicity enquiries, contact Publicity Manager Caroline Lambe: caroline.lambe@angryrobotbooks.com