Want to smell like an Elizabethan? Have you seen the fabulous giveaway running over on author Anne Lyle's blog?
Anne's friend Naomi Clarke has created two scents based on the characters in the Night's Masque series, one for Mal and one for Coby! To celebrate the launch of the two new fragrances, Anne is running a competition to win two sampler sets of a 1ml vial of each fragrance to try.
Head on over to enter and to find out more about the scents, and check out the fragrances on Naomi's Etsy page here.
Anne is the author of the Night's Masque, a fantasy series set in an alternate Elizabethan history. The series begins with the fantastic The Alchemist of Souls, which was nominated for a BFS Award, and continues with The Merchant of Dreams and The Prince of Lies.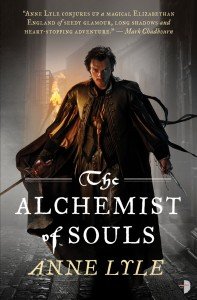 "Anne Lyle's fluid writing brilliantly evokes the heady and gritty atmosphere of her alternate Shakespearean London – from the day-to-day life of theatre troupes to the pomp of official ceremonies." – Aliette de Bodard, author of the Obsidian and Blood series
"With an effective mix of espionage, backstage drama, and mystery, Lyle provides compelling drama in an intriguing setting." – Publishers Weekly
"It's always a pleasure to encounter a debut fantasy novel that combines storytelling verve with inventive turns of phrase." Four Stars. – SFX Magazine
"…gives Shakespeare's London an alternate-history twist … A lively, readable debut." – David Langford, Telegraph.co.uk
"A rich historical setting, some gloriously ambiguous characters, and a whole lot of unexpected surprise collide to make this unmissable for any fan of historical fantasy." – Jacob Topp-Mugglestone, Drying Ink
"Lyle is a superb talent, one I think everyone should be reading. The Alchemist of Souls is very highly recommended." – Stefan Fergus
"Mysterious circumstances combined with historical authenticity and the strange, Anne Lyle's The Alchemist of Souls is a 2012 debut I can strongly recommend." – Justin, Staffer's Musings
"An outstanding debut and Lyle is certainly a name to watch for the future. I thoroughly enjoyed it." – Carl Barker, for The British Fantasy Society