Hi everyone,
It's Round Up time again, and this time we've got a selection of our recent titles that we really feel you should take a look at.
Heartwood by Freya Robertson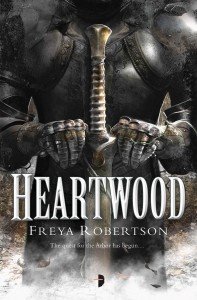 First up, Heartwood by Freya Robertson, the first in an exciting new epic fantasy series: The Elemental Wars! You can read interviews with Freya on SF Signal, Civilian Reader, Terribleminds and My Bookish Ways. On Searching for Superwomen she talks video games, and on Bookworm Blues we find out what speculative fiction has taught her.
Heartwood has also been picking up some great reviews. Here's what people think:
"A great start to a series and one that I'll be sticking with." – Falcata Times
"As a fan of epic, military fantasy, I've read quite a few in my days and was honestly impressed with Heartwood … Robertson's world building was spot on. Looking for an epic novel with a fresh and new take? This. is. it." – Books With Tien
"Compelling. I enjoyed the intricacies of the story and how detailed the world was … I would definitely recommend this book." – Hstoffel Book Reviews
"[The] plot is gripping and the characters are great … It felt like reading a really good computer game" – Upcoming4.me
"an impressive feat of storytelling featuring rich world-building and a story on an epically massive scale" – The Bibliosanctum
"The biggest strength of Heartwood is its vivid attention to world building. The world that the characters inhabit is fully fleshed out and fully detailed over the course of the novel, and the reader gets to learn about several things, certainly more so than your average fantasy novel." – The Founding Fields
"I really enjoyed the many female characters is this story and the author does a very good job of portraying them as strong and accomplished knights." – Two Ends of the Pen
"I appreciated the gender balance Robertson presented with the Knights and especially that a woman was leading them. The strength of the novel was in the character of Procella in particular and how very real her actions and emotions felt." – SFF World
"[If] you like your fantasy with adventure and death. This is for you. And with a twist to environment as well!" – My World, In Words and Pages
"Swords and chivalry, quests and shrubbery, and not one Knight who says Ni! Heartwood (Elemental Wars) by Freya Robertson, is a story that entices and captivates from the very first chapter, and beyond … As one might see, I am quite taken with this epic tale, and I very much look forward to another trip into Anguis" – Sleepless Musings of a Well Groomed Moustached Man
"The worldbuilding is wonderful … The author created a beautiful new world with Anguis. She also used nature in a creative way to shape her characters, their history and their religion. It was really great to read about the contrasting countries with their similar religions but with such a different interpretation of them and how they perceive each other and how that changed for certain people during their ordeal." – Draumr Kópa Fantasy Book Blog
Seven Forges by James A. Moore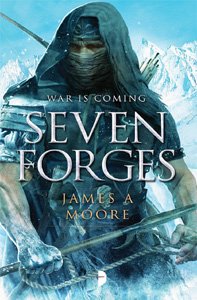 Seven Forges is the first in an entertaining new fantasy series from James A. Moore. Readers have been loving the world and the sense of adventure, the "swords and sorcery, complete with romance, intrigue, and danger" (Attack of the Books).
You can read a guest post from James over at A Fantastical Librarian – Nuclear Winter in a Fantasy Realm.
Want to see what's got readers hooked?
"Wow, that twist. In some ways I think I should have seen it coming, and I kind of did, but Seven Forges just lulled me into security and BAM! Craziness!" – Anya, On Starships and Dragonwings
"Seven Forges is a well written fantasy adventure with a very interesting premise and a big world to explore. It is notable that Moore doesn't spend of lot of words describing the world; rather we learn about it as the characters move through it. It is a very good way of creating a sense of expansiveness. I recommend this book to all lovers of fantasy." – celtic frog reviews
"It seems like it's been a long time since I read a fantasy novel that's not YA with strong characters, amazing world-building and the sort of ending that leaves you wanting more. Luckily, that's exactly James A Moore did with Seven Forges so I'm so glad I decided to read this one. I loved Seven Forges … I was left speechless by the ending and left wondering for days whether there was to be another book in the series." – The Bookish Outsider
"The end of this book was a freight train rocketing full speed, straight towards a ruined bridge. You hung on for dear life and as the last paragraph ended you were still hanging on, white knuckled. Moore does a fantastic job of building worlds and characters in Seven Forges as we hop on board the train that is about to meet its doom." – The Troubled Scribe
"James A. Moore dedicates Seven Forges in part "to the memory of Fritz Leiber and Robert E. Howard for the inspiration." That dedication sets the bar high. Moore is far more than an imitator, though. He does some fresh, counterintuitive things with the genre conventions. More than once, he startled me into saying out loud, "I didn't see that coming." … heroic fantasy that can hold, and deserve, my attention, volume after volume." – Black Gate
The Deaths of Tao by Wesley Chu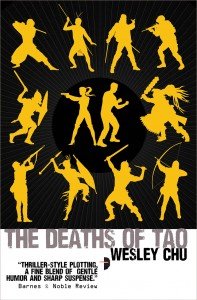 The Deaths of Tao is the brilliant, action-packed sequel to The Lives of Tao by Wesley Chu, a science fiction spies-aliens-martial-arts-bromance-adventure that has been getting a lot of people talking. Not only did The Lives of Tao gain amazing reviews, it also came in the top ten science fiction novels in the Goodreads Awards!
Wow! So, what about Deaths? Well, judging by the feedback from readers, The Deaths of Tao is just as loved as the first book. Want to see what they've been saying?
"Fans of the first novel will have a great time, and newcomers should have no trouble picking up the plot's various threads as the story moves along. Great stuff." – Booklist
"The fate of humanity hangs in the balance in a suspenseful and humorous novel replete with gun battles in East Asia and political machinations in Washington, D.C." – Shelf Awareness
"…the end result is a thrilling novel that without quirky aliens would sit triumphantly in Ian Fleming or Vince Flynn's wheelhouse." – Staffer's Review
"The Deaths of Tao is one great sequel, firmly establishing Wesley Chu as one of the hottest writers in science fiction today." – Upcoming4.me
"The Deaths of Tao has a lot going for it, not to mention a lot going on. With the different perspectives, the alien factions in conflict, and the political and historical elements – there was literally never a dull moment." – My Shelf Confessions
"Chu embraced the challenge of writing a female point of view and does it exceptionally well. Simply put, Wesley Chu leveled up as a writer. If his third book can capture the magic of the first with the technical execution of the second, he'll be among the elite." – Staffer's Book Review
"For fast paced, extraterrestrial action and adventure sure to endure the test of time and the science fiction genre. Excellently written with a great sense of urgency and characters that are organic in their evolution, The Deaths of Tao is a Fall must-have sequel." – Toonari Post
"So, all in all, this is another great book by Chu. It has plenty of action, it has plenty of humor, and plenty of plot. It's all very well balanced. Also, I don't think this very often, but these books seem like they would also make awesome movies. I'd love to see Roen on big screen." –Tenacious Reader
"The Deaths of Tao is a full-fledged action story filled with high stakes, undercover plots and desperate acts… and snappy dialogue with geeky humor." – Geeky Library
"We get not one but three explosive clashes happening in different parts of the world, and then both alien factions raise the stakes. Now begins the wait for book three, and thanks to that cliffhanger I know I'm going to have a hard time being patient to see what happens next!" – The Bibliosanctum
Want to hear Wesley talk more about Tao and his books? Wes appeared on the Writing Excuses podcast, talking about realistic melee fighting, and on Functional Nerds, here. Wesley has also recently done a Reddit Q&A, which you can read here.

AND… you can read an extract of Deaths of Tao on Tor.com.
Need more convincing? Oh, go on then. 🙂
"Wesley Chu has developed something of a rarity in which there is a mixture of action, espionage, humor, and some romance that blends very smoothly together and gets the reader interested in the characters themselves and not just the endgame of the book." – Comic Book Therapy
"Chu knows how to blend humor, thrills, terror and romantic angst into one entertaining package, and I can't wait for more." – Books, Bones, & Buffy
"Wesley Chu brings just the right amount of comic-book style to a setting of serious sci-fi blended well with secret-agent thriller action, and all starring a reluctant hero everyone will love. It's a stellar combination!" – Popcorn Reads
"Thriller-style plotting, a fine blend of gentle humor and sharp suspense." – Joe's Geek Fest
"Jam-packed with espionage and intrigue, intense action and fighting scenes punctuated by humor at just the right moments, and characters that are well worth becoming emotionally invested in, it never seems to falter in pace or flow. Joy, hope, humor, fear, sadness, are all expertly conveyed, sometimes even within a single paragraph." – Allwaysunmended
"Wesley Chu obviously is a host for a Quasing of superior power, fans of book one will not be disappointed, his ability to not only craft an intelligent sci-fi but include historical features, humour and tie it up neatly into a mile a minute spy thriller, the fellow is certainly rather talented." – Sleeping Muses
"Wesley Chu has proven his versatility with his sophomore effort and all his gambling appears to have paid off. His status as a rising star in the genre world hasn't dimmed a Watt." – The 52 Book Reviews
"While The Lives of Tao was fun, The Deaths of Tao is fascinating. It looks like Chu has taken everything he learned from writing the first book, polished it, and really threw himself into the task of writing something with more depth and a harder edge." – Bookworm Blues
"The Deaths of Tao was a wild, action-packed ride that had me on the edge of my seat the entire time. There NEEDS to be a third book. The last couple pages had some absolutely crazy plot twists and I need more." – Sarah Says Read
"Roen and Tao are back in the game in this thrilling sequel, joined by ninja action, super spy skills, a Tesla Roadster, hot secret agents, stinky tofu, snarky aliens, warring couples, Capitol Hill wheeling and dealing, and a mission to save all humankind from destruction." – Geeky Guide to Everything
"…this is another great book by Chu. It has plenty of action, it has plenty of humor, and plenty of plot. It's all very well balanced." – Wilder's Book Review
"The shades of grey in all of these issues are what make the story so interesting. Decisions and mistakes are made by everyone, but beyond that, everyone's making their own choices at the same time. It's all so very dramatic. I love it." – Over the Effing Rainbow
"This time around, the storytelling is more dramatic, the action is far more brutal and the stakes are a hell of a lot higher." – Every Read Thing
"The ending was jaw dropping, to say the least." – Shelf Inflicted
"…the book certainly deserves 5 instances of Roen secretly saving Jill's life out of a possible 5." – The Geeky Guide
"The fate of humanity hangs in the balance in a suspenseful and humorous novel replete with gun battles in East Asia and political machinations in Washington, D.C." – Shelf Awareness
"Chu's writing style is very easy to read, and the action flows steadily on. I look forward to seeing what he does in the future." – Being a Big Sandwich
"The Deaths of Tao is just as explosively written, thrilling, and fun as its predecessor. Thank you Wesley Chu! Often times sophomore efforts are easy to pass over, become unnecessary or obscure.The Deaths of Tao is an exception to that rule." – Patrice's Reading Corner!
"This Performance, where the reality has been transformed into something extraordinary, has set the stage for The Prestige, the payoff of this amazing performance." – Untitled United
"I highly recommend both books as well thought-out alien science fiction. I would imagine we haven't seen the last of Tao. Or have we?" – Troubled Scribe