Hey folks, today's Robot Round-Up is a celebration of January 2014's coming titles, and we have two exciting books to share with you! First up, the much anticipated The Cormorant, the third in Chuck Wendig's fantastic Miriam Black series. Readers of the first two books loved the dark, punchy style ("fast, ferocious, sharp as a switchblade and fucking fantastic" – Lauren Beukes, author of Zoo City and The Shining Girls) and I can't wait to see what you all think of the third book.
The Cormorant by Chuck Wendig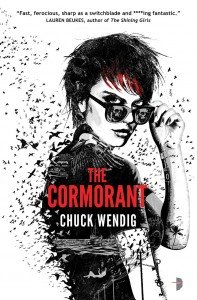 "I highly recommend this one, I think it may have taken seat as my favorite of Chuck Wendig's books. So, yeah, go read it. Miriam once again kicks ass." – Tenacious Reader
"Brutal, hilarious, and a lot of fun." – Dangerous Dan's Book Blog
"The storytelling is excellent. It's gripping. It's compelling. It's like a train wreck that you can't tear your eyes away from. Did I mention that I loved this book?" – Lynn's Book Blog
"Looking for a good book? … strong writing, engaging characters, and fast-paced action." – Looking For A Good Book
"Visceral and often brutal … vibrates with emotional rawness that helps to paint a bleak, unrelenting picture of life on the edge." – Publishers Weekly
The Iron Wolves by Andy Remic
Our second book is The Iron Wolves, the first in a new fantasy series by Andy Remic, and many reviewers have been appreciating its Gemmell-like (Gemmellesque?) feel. So any Gemmell fans out there looking for something new, this could be for you! Andy is the author of the Clockwork Vampire Chronicles, and readers particularly love his brutal, exciting writing style.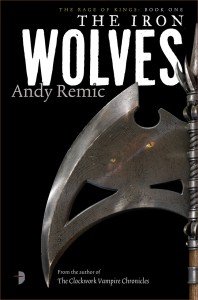 "For anyone who is missing their David Gemmell fix." – iO9.com
"Remic delivers the goods for fans of stark brutality and violence in a fantasy setting." – Publishers Weekly
"Nothing is too outlandish for Andy Remic… [The Iron Wolves is] glorious." – Graeme's SFF
"Add to the mix a good dollop of battlefield humour, a good handful of Howard's style backed up with a stark descriptiveness and it's a tale that gives Remic a firm footing within the genre." – Falcata Times
"Andy Remic has to be given credit for his unflinching style which is certainly not for everyone. The action and gore levels are increased, while the characters are all tested and reveal more about themselves… The action and snappy dialogue are all here. This book delivers exactly what its predecessor promised: the ability to bewitch the reader and to turn your expectations upside down." – Fantasy Book Critic (Soul Stealers)
"A worthy successor to the Gemmell crown." – SFBook.com
"… there is never a dull moment in this story. Andy Remic brings grit and realism to the fantasy genre in a fascinating and addictive way." – Tony's Thoughts
Intrigued? If you want to read an extract of The Iron Wolves, why not head over to Tor.com.