As part of our 12 Days of Christmas, we're bringing you some of your favourite authors talking about what Christmas is to them. We're also bringing you their books at only £1! First up is Karen Sandler, author of Clean Burn.

Here's how to take advantage of our seasonal special offer:

2. Add the book(s) you'd like to buy to your shopping basket

3. Add the magic word 'tinsel' to the 'coupon/voucher' box

4. Click the 'update basket' button and the discount will be applied

Happy reading!
Christmas is my absolute favorite holiday. I love decorating the tree with far too many ornaments, the old and the new that I buy each year. I adore making Christmas cookies, especially if I can get someone else in the family involved. And going out into the neighborhood to enjoy the gorgeous lights is so much fun. I even love playing the corny Christmas CD pack that includes a wonderful mix of songs (although I do try skip that freakish Jingle Bells track that goes overboard with the bells).
I came by my love for Christmas honestly. I lived mainly with my Grandmother when I was a kid, and she always went way overboard with the presents and decorations. We'd all been raised Catholic, so the holiday had special religious significance—for me and my sisters, that is. While my sisters and I attended church faithfully each Sunday, my grandmother, mom, and Jewish dad (who'd "converted" to Catholicism) only went on the holidays, if at all.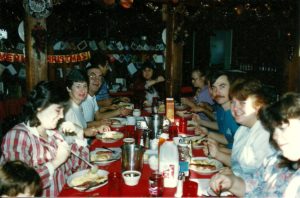 Of course, one of the best things about those Christmases was the food. It was always the same menu. A relish tray filled with sweet and dill pickles, green and black olives, two varieties of celery sticks stuffed with cream cheese—pimiento and chopped black olives. When I was old enough, I was the official relish tray maker, mixing the pimiento and chopped black olives with cream cheese, filling the celery, arranging it all artfully on the tray.
After we'd scarfed up the relish tray, it was on to the main event: turkey, stuffing, mashed potatoes, gravy, yams (topped with tons of brown sugar and marshmallows), rolls, and something green (usually peas) as a sop to healthy eating. We'd follow that carb-heavy main meal with pumpkin pie, Grandma's fudge, and whatever Christmas cookies my mother had made. Then we'd all roll around on the floor groaning.
Of course, this food extravaganza was preceded by the opening of far too many presents. I recall the year my mom and stepdad owned an apartment house, and their large front unit included a living room that was about 12×20 feet. We had the Christmas tree on one end and piles of presents covered about half the floor space. What can I say? We were Christmas over-achievers.
When I married my husband, who'd been raised in the Jewish faith, my latent Judaism got a chance to shine, for the holidays at least. I discovered the wonders of Purim and Passover, Rosh Hashanah and Yom Kippur. And, of course, Hanukkah.
I learned that Hanukkah was quite different from Christmas (rather than a birthday, it celebrates a military victory and the miracle of the oil lasting for eight nights instead of one). But the Jewish holiday had all those great familiar elements that I loved about Christmas. Pretty lights: check. Presents: check. Decorations: not quite as elaborate, but check. And fabulous food: triple check.
It turned out that my husband's dad had the most incredible recipes for beef brisket and latkes (potato pancakes) you ever tasted. The gravy that the brisket makes is so delicious, you could eat it on a sponge an enjoy it. The latkes fulfill the tradition of cooking with oil. Add some creamy cheese blintzes for the vegetarians (also cooked in oil), and Hanukkah easily competes with Christmas in stuffing your guests so full of food they can't move. Between the food and the opening of presents for eight nights, Hanukkah is a sheer delight.
I like to think that by celebrating both Christmas and Hanukkah, I double the pleasure of the holidays. It's double the lights, double the presents, double the yummy food.
And if the dial my bathroom scale swings a little higher afterward, it was poundage worth gaining.