Hi folks,
Delighted to introduce you to our two February 2014 Angry Robot titles, which are now on NetGalley!
We have a stand alone novel by Adam Christopher for you, and also the third in the Occult Investigations Series by Justin Gustainis. Known Devil is available to download immediately with no request needed!
But for now, here are the latest NetGalley ARCs available for request:
Hang Wire by Adam Christopher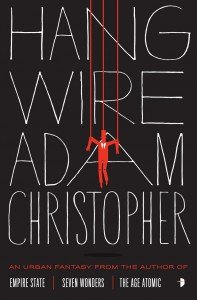 Ted Hall is worried. He's been sleepwalking, and his somnambulant travels appear to coincide with murders by the notorious Hang Wire Killer.
Meanwhile, the circus has come to town, but the Celtic dancers are taking their pagan act a little too seriously, the manager of the Olde Worlde Funfair has started talking to his vintage machines, and the new acrobat's frequent absences are causing tension among the performers.
Out in the city there are other new arrivals – immortals searching for an ancient power – a primal evil which, if unopposed, could destroy the world!
Known Devil by Justin Gustainis
Remember: All Requests Approved! So get downloading!
The Third Book in the Occult Investigations Series
My name's Markowski. I carry a badge. Also, a crucifix, some wooden stakes, a big vial of holy water, and a 9mm Beretta loaded with silver bullets.
A new supernatural gang is intent on invading Scranton – as if I didn't have enough to contend with!
Supernatural gang warfare? Not on my watch!
File Under: Urban Fantasy [ Fang Warfare | Invading Forces | Uneasy Alliances | The Devil You Know ]