As part of our authors' 12 Days of Christmas, which will start on Friday 13, the AR/SC/EA team have been given space to blather on about what Christmas means to them.

Here's Angry Robot's Senior Editor, Lee Harris, and later today will be Wanda from our New York office!

Over to you, Lee…
OK. This is going to be one of those annoying Best Of lists that crop up everywhere at this time of the year. I've read more novels for pleasure than I did last year (I didn't get close to my – rather pathetic – target, but I found the time to read more), and I've enjoyed more TV and comics, conventions and audio dramas.
These are my favourite things I've consumed this year. They're not necessarily this year's releases.
So – my Top Threes of the year (in no particular order):
Novels (and I'm not including any Angry Robot books here. You can safely assume that all 24 made my Best 3 of the Year list, too).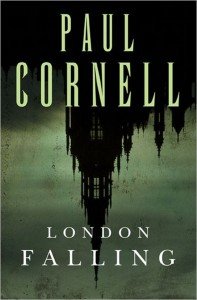 London Falling by Paul Cornell
Urban Fantasy police procedural at its best. Paul is one of those annoying individuals who excels at everything he does. He's multiple Hugo-nominated for his screenwriting and comics, and has won Hugos for the SF Squeecast (which he co-hosts with a number of other writer/fans). See – he's even better at being a fan than the rest of us! And the most annoying thing? He's a thoroughly nice chap, and so it's difficult to begrudge him any of this. Expect London Falling to be on many shortlists this coming year.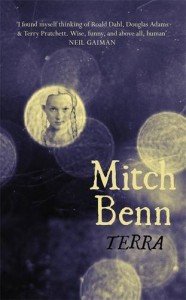 Terra by Mitch Benn
It's difficult to do comedy novels well. It's more difficult to do science fiction comedies well. Mitch Benn nailed it with his first novel. Swine! It's too early to say if he's going to steal Douglas Adams' crown, but you can be sure he's got one eye on the sceptre and another on the escape route. And possibly a third on a beer and some cake – who knows?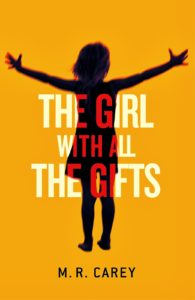 The Girl With All the Gifts by MJ Carey
MJ Carey is the cunning pseudonym of Mike Carey, author of the Felix Castor series of urban fantasy novels, and far too many top quality comics to name (but Lucifer, Suicide Risk, X-Men, Hellblazer are among them). The Girl With All the Gifts is, I think, his best work to date. It reads like Ishiguro, if Ishiguro were better at genre. It deals with a topic that I generally never read, as I thought everything had been done on the subject (and done to death), but I was wrong. And no – I'm not going to outline what that subject is. Spoilers, sweetie. 
Comics
Bloody Comixology! A lifelong comics fan, I now read more comics than ever before because the Comixology app on my iPad makes it too easy to buy them! *shakes first at sky* Here, then, are my Top Three for the year (although it was a very difficult choice, and I could so easily pick a top 20):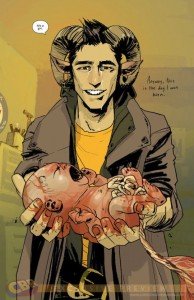 Saga by Brian K Vaughan (writer) and Fiona Staples (artist) – Image Comics
The winner of three Eisner awards, a Hugo and a British Fantasy Award this year, it's a small-scale space opera (space operetta?) following the lives of two soldiers from opposing races, who fall in love, have a child, and run from pretty much everyone in the galaxy. The writing is sharp and exciting, and the art is beautiful – simple pencil strokes belying the skill it takes to express the complex emotions portrayed by the characters in every panel of the book.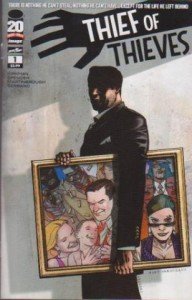 Thief of Thieves by Robert Kirkman/James Asmus/Andy Diggle (writers) and Shaw Martinbrough (artist).
It's essentially Oceans 11 meets The Thomas Crown Affair. Crime stories have made a resurgence in comics in recent years (Criminal, Fatale, Velvet among others) and Thief of Thieves gives me everything I love in a crime story – confident, capable protagonists, appropriately wily adversaries, crosses, double-crosses, and perfect sleight of hand. A joy to read.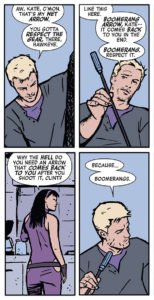 Hawkeye by Matt Fraction (writer) ad Matt Hollingsworth (artist)
So, Hawkeye, huh? That bloke (and occasionally that woman) in the Avengers who's pretty good with a bow and arrow. Marvel's equivalent of Green Arrow. Someone with a bow in a world of superstrength, flight and invulnerability. You can tell I'm not a big fan, huh? Well, truth be told, I'm not a fan of comic characters, generally – I don't follow characters, I follow writers. And Matt Fraction has created something rather special, here. He (sometimes) describes the comic as "what happens when Clint Barton is not being an Avenger". It's Hawkeye's downtime. It's his private life. His home life. It's the wittiest comic out there at the moment, and if I had to drop every title I read bar one (and I read a lot) this would be the keeper.
(Other titles I'd include in my Top 3 if you could have more than 3 in your top 3 include: Sex Criminals, Daredevil, Young Avengers, Suicide Risk, Wolverine and Astro City).
TV Shows
Oh, so many good things. So many, many wonderful shows from which to choose. Here's my 2013 list.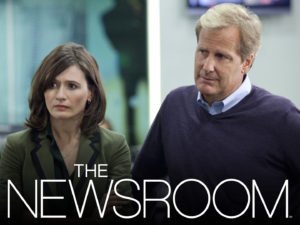 The Newsroom (series 1)
I only saw this in 2013 because it took a long time for the show to hit iTunes (I don't have Sky TV for Murdoch-related reasons). HBO shows tend to take a while before they're released for purchase, so I'm always behind the curve when it comes to watching them (problematical when everyone you know on Twitter watches Game of Thrones). This was one of my most hotly-anticipated shows, though, as I'm a big admirer of Aaron Sorkin's work. Jeff Daniels rules the roost as the anchor on a late night news show, but as with most of Sorkin's shows, this is an ensemble effort, and every member of the cast fits, and contributes to the whole. And Series 2 has just been released to Blinkbox (another streaming TV/film service), as Blinkbox sometimes gets series ahead of iTunes. That's the next couple of weeks' viewing sorted, then!
Arrow
Marvel are killing DC when it comes to movie adaptations of their work, but when it comes to TV it's Arrow (DC) vs Agents of S.H.I.E.L.D. (Marvel). Unlike SHIELD, Arrow is doing everything right (with the notable exception of its version of Count Vertigo, who is portrayed as a Dollar-Store Joker, with all the subtlety removed), and until recently, it's been free from super-powered characters, but even they are being introduced in a way that doesn't jar with what came before. It's a silly show, it's true, but it's fun.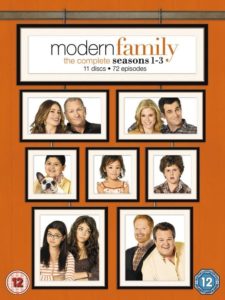 Modern Family
Quite simply the best sitcom on TV at the moment. For the last few years my vote would have gone to How I Met Your Mother, but the quality of writing in series 8 dropped so fast that if I were in the cast I'd be looking for a trapdoor. Modern Family is a perfect example of strong ensemble performance, and (with one possible exception) there isn't a weak link in the cast. The writing, too, is top notch; smoking guns are left everywhere, and half the fun is anticipating what comes next to this diverse bunch of characters that you cant help but love. So very, very good.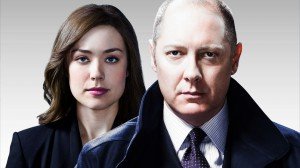 The Blacklist
Not officially on my Top 3 list, as at the time of writing I've only seen the first 3 episodes, but if the quality is maintained, expect to see this on next year's list! James Spader in his career-best performance. FBI/CIA/hi-tech/criminal mastermind nonsense, but oh, so good!
Films
I've not been to the cinema as much as I'd like this year, and I've not always been impressed by what I've seen. Catching Fire was much better than The Hunger Games right up to the last minute, where it stopped so abruptly I assumed the projectionist had lost the final reel  (and yes, I've been told it's because it's faithful to the book – slavish adherence to the source material is no excuse for poor storytelling) so that missed out being on this list. Star Trek Into Darkness was ok, and I enjoyed Iron Man 3, though I'm not sure it's Top 3 material. So for this category, I'm going to cheat (my blog post, my rules, so nyarrr!) and list the Top 3 Movies of 2013 That I Haven't Yet Seen, But Really Want To. As I've not seen these, the descriptions will be somewhat shorter than those, above.
Gravity
Because everyone is raving about it. I've seen a trailer, but read no reviews (other than positive tweets and Facebook updates). It's nice to go into a movie knowing very little about it, sometimes.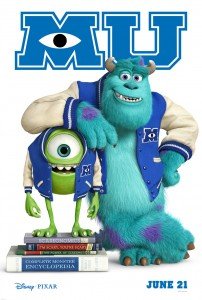 Monsters University
I'm not even going to attempt to put a reason, here. If you don't understand why this is here, you're dead to me.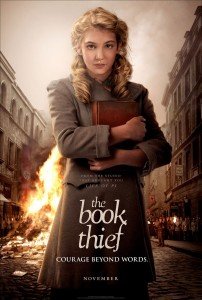 The Book Thief
Loved, loved, loved the book. And the trailer was promising, even before Geoffrey  Rush came onscreen. And then Geoffrey Rush came onscreen and all potential doubts were cast aside.
Audio Drama
I love me a good audio drama. Luckily, there are plenty of good ones around.
BBC Adaptation of Neil Gaiman's Neverwhere.
Great cast (led by James McAvoy and – sigh – Natalie Dormer), great adaptation (Dirk Maggs), and a better FX budget than the fun, but flawed, TV series.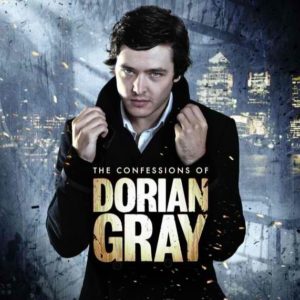 The Confessions of Dorian Gray: The Houses In Between (starring Alexander Vlahos, written by Scott Harrison) – BigFinish.com
Dorian Gray seems like an unlikely character to be given his own series, but his immortality allows for stories through the ages to be told from a single viewpoint, and it works. This, an episode from the first season, is a beautifully evocative and unsettling tale of evil on the streets of 1940s' London.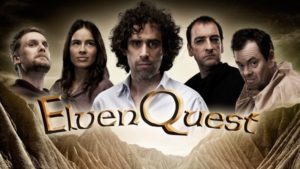 Elvenquest
Another BBC radio series, and quite possibly the finest Tolkienesque spoof to have been written. Absurdly funny, with a fabulous cast (which includes genuine nobility in the form of Sophie Winkleman, or – to use her formal title – Lady Frederick Windsor) and writing that embraces the tropes of fantasy like a life-long fan, while at the same time thrusting a comedy rubber sword up its arse. You can pick this up at Audible.
.
So, those are my Top 3s. What are yours?