Hey everyone!
Amanda, Vicky and I have just decorated the office, and as the silly season hits the AR HQ, we'd like to offer you the change to share in our festive excitement. We've got a great competition for you…and the prizes are here, in our tree: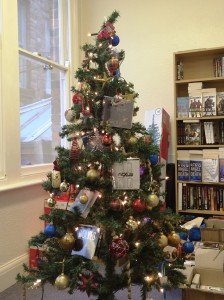 Can you see them all? That would be the audiobooks of Jay Posey's Three, Andy Remic's The Iron Wolves, Ramez Naam's Nexus, Chuck Wendig's The Blue Blazes, AND Paul S. Kemp's The Hammer and the Blade!

Want them? Well, we want you to have a little fun! We want you to tweet us (@angryrobotbooks) with your renamed festive versions of our books. Here's one to start you off:
We'll pick a winner out this time tomorrow (about 1pm GMT) so have fun with it, and for that bumper prize, we want your best creative re-imaginings of our titles! It doesn't have to just be Angry Robot titles, it can be Strange Chemistry or Exhibit A, but it is an Angry Robot prize pack. We'll have a special prize for the runner-up as well, so get your entries in.
And, for those who wanted to see more of our office decorated, here you go:
Just click on any of the photos to make them bigger!