Happy Monday, one and all!
Last week we ran a competition asking you to change our titles into something a bit more festive, and this was no challenge for you lot! We had quite the range of answers, some made us laugh and others groan with the cheese factor, but we did enjoy reading them. It was no easy decision but there must be a winner…but before that, here's a reminder of the prize: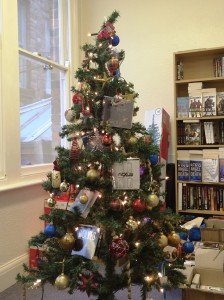 And for closer inspection…for those of you who think it's the tree you're winning…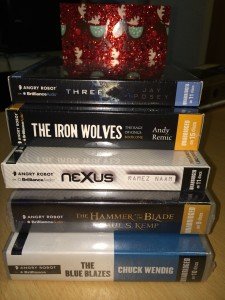 Drum roll please… the winner is…
The Book of the Snowman by Joseph DeFrillyandLacey
We did have a number of people who sent this festive title in but Ross Warren was the first to reach us, and so congratulations Ross! Can you email me – caroline[dot]lambe[at]angryrobotbooks[dot]com – with your address and I'll get your prize sent to you?
We really did have some wonderful entries, so we've decided to give a couple of honorary mentions to:
The Mince of Pies by Anne Lyle courtesy of Effing Rainbow – nice Twitter seasonal name-change, by the way!

The Road to Bedlemham by Mike Shevdon courtesy of @DelilahSDawson with another great seasonal name-change!

The City of Ho Ho Hope and Despair by Ian Whates courtesy of @ahimsakerp

Can the three of you get in touch with me please, with your respective postal addresses? I'm sure we can arrange a runners-up prize, considering it's the season of giving!
Thanks to everyone who entered; we had great fun with this, and hope you did too!
Happy Christmas!