Supernatural meets Men in Black in a darkly humorous urban fantasy from the author of Nekropolis.
We're really excited about this cover reveal today and can't wait to see what you think! From Tim Waggoner, author of the brilliant Nekropolis series, Night Terrors is the first in the Shadow Watch series, where nightmares are all too real…
So, on to the cover, which is by the fantastic Amazing15: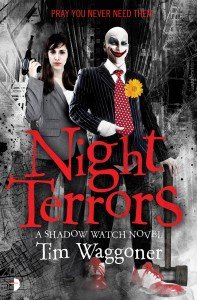 ***
Night Terrors
When you dream, you visit the Maelstrom. Dream long enough and hard enough, and your dreams can break through into the living world. So, alas, can your nightmares.
And who's there to catch the dreams and nightmares as they fall into reality? Meet the Shadow Watch.
Pray you never need them…
File Under: Urban Fantasy [ Lords of Misrule | Living the Dream | Breaking In | I Make These Look Good ]
***
Tim Waggoner
Tim Waggoner is a novelist and college professor. His original novels include the Nekropolis series, Cross County, Darkness Wakes, Pandora Drive, and Like Death. His tie-in novels include The Lady Ruin series and the Blade of the Flame trilogy, both for Wizards of the Coast. He's also written fiction based on Stargate: SG-1, Doctor Who, A Nightmare on Elm Street, the videogame Defender, Xena the Warrior Princess, and others. He's published over one hundred short stories, some of which are collected in Broken Shadows and All Too Surreal. His articles on writing have appeared in Writer's Digest, Writers' Journal and other publications.
He teaches composition and creative writing at Sinclair Community College in Dayton, Ohio and is a faculty mentor in Seton Hill University's Master of Arts in Writing Popular Fiction program in Greensburg, Pennsylvania.
Tim Waggoner online:
Tim's website
Tim on Twitter
Tim's Facebook
***
Book Info
The first book in the Shadow Watch series
UK Print
Date: 5th June 2014
ISBN: 9780857663689
Format: Medium (B-Format) Paperback
R.R.P.: £8.99
US/CAN Print
Date: 27th May 2014
ISBN: 9780857663696
Format: Small (Mass-Market) Paperback
R.R.P.: US$7.99 CAN$9.99
Ebook
Date: 27th May 2014
ISBN: 9780857663702
Format: Epub & Mobi
R.R.P.: £5.49 / US$6.99
Other Books in This Series:
2. Title TBC (Spring / Summer 2015)
Other Angry Robot Books by This Author:
The Nekropolis Saga
1. Nekropolis (August 2009)
2. Dead Streets (March 2010)
3. Dark War (June 2011)
Omnibus: The Nekropolis Archives (May 2012)