As part of our authors' 12 Days of Christmas, which will start on Friday 13, the AR/SC/EA team have been given space to blather on about what Christmas means to them. First up, here's Publicity Manager Caroline Lambe – feeling strange, writing about herself in the third person but how and ever.

Remember to check out each day's post to discover whose books are reduced to £1 in our Pre-Christmas Sale of Madness!
This is nostalgic indulgence, but for those with an interest, here's what an Irish Christmas means to me.
There are many notable events that signal the beginning of Christmas in Ireland. These are moments that reduce me to childish glee, and utterly unashamedly!
Larry Gogan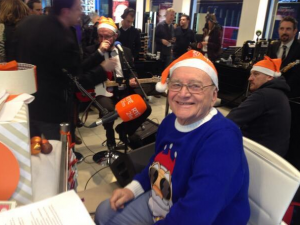 The order can be interchangeable but the two key moments revolve around RTÉ, our national broadcaster. Larry Gogan is a 2FM (equivalent to BBC Radio 1) DJ who has been there since the year dot, literally in the world of 2FM seeing as he played the very first song, on 31 May 1979! ("Like Clockwork" by the Boomtown Rats, if you're interested to know) Larry is an Irish institution, and he has the honour of annually playing The First Christmas Song on 2FM. It mightn't be part of his own show, they're crafty – trying to get us to listen to other shows, waiting on Larry to pop up – but it's generally during the first week of December. A personal favourite of Larry's is "Fairytale of New York" by The Pogues although you never quite know what he'll go with. This year, he played the song that was most frequently requested in 2012, Mariah Carey's "All I Want For Christmas Is You". Listening to Larry's preamble on the 2FM website at the end of November this year, excitedly waiting to hear which song was chosen – and then singing along at the top of my voice –  I felt like I was at home whilst sitting in my house in Leamington Spa. It certainly brought the traditional start of my Irish Christmas to England.
The Late Late Toy Show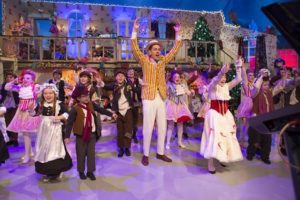 As anticipated as Larry's First Christmas Song is, there is no greater moment in an Irish Christmas than The Late Late Toy Show. The Late Late is a long-running talk show, first broadcasting in 1962, that originally had interviews and features with politicians, writers, musicians, comedians, and audience involvement in debates on topical issues. A quite serious affair with lighter moments, it is known for being a forum for controversial topics, at the time, including an AIDS special, a feature on the contraceptive pill – when it was still illegal in Ireland, and women's rights. But, at Christmas, the set is transformed into a winter wonderland and the presenter embraces their inner child to run amok, certainly true in the case of the mighty Gay Byrne and the current presenter, Ryan Tubridy.
From 1975 when the first Christmas edition was aired, it has been a vital part of an Irish Christmas. It's a time when every child in Ireland is allowed stay up past their bedtime. Santy letters are written based on the toys shown. Audience members dress up as elves and wear fake beards. And, the presenter wears a Christmas jumper. As I'm writing this, I'm discovering how hard it is to convey how much a Christmas jumper can excite a nation, but it's part of our Christmas and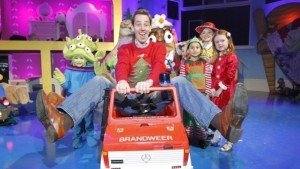 the 'big reveal' of the presenter's jumper – and the opening of the show – creates much excitement. This year's Toy Show was broadcast on Friday 29 November, and for the first year was available online, meaning Irish people all over the world could watch. My fiancée, his parents who were over for the weekend, and I, gathered around the laptop, Christmas tree lit, glasses of wine in hand, and watched 3 hours of children taking over the Late Late Show as they reviewed toys, sang songs, danced, played instruments, and made the nation jealous. Every child (and adult, let's be honest) in Ireland wants to be on the Toy Show!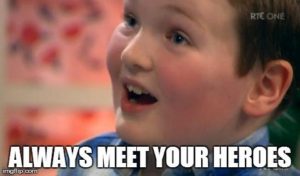 It is the stuff of dreams, and it makes dreams come true, every year. This year's highlight belongs to eight year old Domhnall  O'Confhaola who was on the show, seemingly to review the latest soccer video games. As Ryan quizzed him on his favourite player, Ireland and LA Galaxy's Robbie Keane, Domhnall spoke intelligently, and very sweetly, of Robbie and his love for the sport. I have seen no greater moment this year on TV than when Ryan Tubridy introduced Robbie Keane to the stage, and Domhnall met his hero. I highly recommend watching this YouTube clip of the moment…try keep your eyes dry, I dare you: Domhnall meeting Robbie Keane.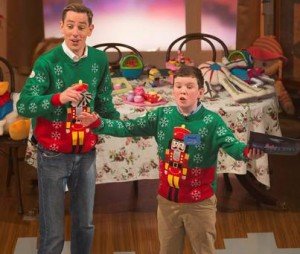 This year Ryan also had a co-host, Fergal from Cavan who wrote to Ryan asking if he could take part as he suffers from the debilitating illness, Middle Child Syndrome. Being a sufferer of this dreadful disease myself, I was delighted for Fergal that he got to have his moment in the spotlight, and he did a wonderful job introducing the kids' bike brigade: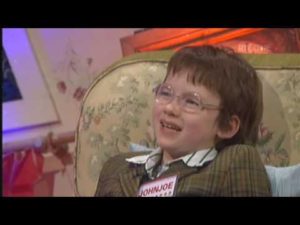 John Joe, the horologist, has also gone down in Toy Show fame, and if you're already on YouTube watching the other two clips, you need to check this one out: John Joe, the horologist.
Kids love it, obviously. Adults love it because they revisit their childhoods every year with the tradition, and in turn watching other children enjoy it. But there's something for everyone in the audience (like that, any Irish readers?!) and a common occurrence is the Toy Show Drinking Game, unofficial of course. The Late Late Toy Show, a programme for all the ages!
A new-ish feature in the Irish Christmas Calendar is the start of Christmas FM. Yes, a radio station dedicated to playing Christmas songs, 24/7. A temporary licensed station, it started in 2008, and the slogan says it all: Bringing You the Magic of Christmas! Each year the station has a chosen charity, and works towards raising as much money as possible, over a limited period. In 2011, over €117,000 was raised for Focus Ireland which works towards ending homelessness, a particularly poignant campaign for this time of year. This year's charity is Aware, which assists people affected by depression. A fantastic station, which has introduced the Irish nation – at home and abroad – to classics such as Frank Kelly's parody of the 12 Days of Christmas  and the dreaded tear-jerker Christmas Shoes. I don't think anyone will thank them for introducing Christmas Shoes to us! But Christmas FM is fast becoming a vital part of an Irish Christmas, and we do thank them for that!
Weather-Predicting Cows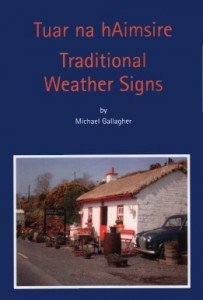 We have many quirks in Ireland, in general, but a Christmas highlight is the Donegal postman who predicts the festive weather based on the movement of cows in the hills of Donegal. I kid you not. It doesn't matter that he's rarely right, we all still wait for his forecast! Good man, Michael Gallagher, only for ya! And yup, that's his book cover there.
December 8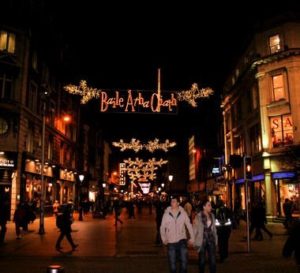 By the time we've had Larry play the first Christmas song; the Toy Show's been on; Christmas FM is on-air; and Michael's made his predictions, you can be sure it's almost December 8. THE most important day in the Irish Christmas Calendar. The Feast of the Immaculate Conception. You may think I'm about to talk about the Catholic Church in Ireland and why this is important, it being Christmas and all, but no. Not at all. December 8 in Ireland is viewed as the official start of Christmas. If your Christmas tree isn't up before, it'll certainly be put up on the 8th. Even more importantly, it means…Culchies on Tour. The 8th is the traditional Christmas shopping day in Ireland and with most primary schools closed, the tradition of rural folk visiting the 'big schmoke' for the day is still alive and well. Dubliners just love it when the city is filled with 'culchies' up for the day. And speaking as a 'culchie', we just love it, too!
A Lambe Family Christmas
These are all events, and moments that I treasure. Thanks to the internet, I've still been able to have most of these moments part of this, my first year living in England, but nothing beats being at home.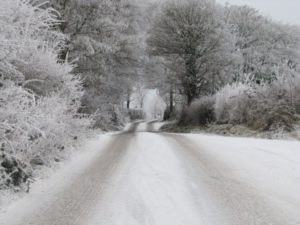 Watching Charlie and the Chocolate Factory (the Gene Wilder version, of course) with my family; making mince pies as my mother's record player gives us the festive songs of Andy Williams, Slim Whitman, Perry Como, and more; being snowed in or unable to leave because our rural roads are never gritted…and being not-so-secretly pleased as it means more time just being at home; visiting relations and spending time with my family. My brother, sister and I still share our childish excitement of Christmas: Áine and I are annually awake at 5am* (OK, OK, I'll admit that it's usually earlier), when I creep into her room and we lie in bed pretending to sleep, giggling loudly, hoping everyone else will wake up. If we last until 7am before waking the house fully, my mother is very lucky, but we're the lucky ones. She loves Christmas and has passed that fun and excitement on to us. She also cemented my love of books every Christmas with presents, and how Santy always knew to bring us books, I'll never know. But then, that's the magic of Christmas!
Wishing you all a wonderful Christmas!
Nollaig Shona Daoibh Go Léir
*I should mention that I'm 29, Áine is 24 and my brother, Shane, is 32…whaddya mean we're not children anymore? It's Christmas!