As most of you are probably aware, we here at Robot HQ adore our blogs, bloggers, readers of blogs, and all things related. We really appreciate everything they do to help us promote our books, authors, and indeed Angry Robot, Strange Chemistry, and Exhibit A. With today being Thanksgiving, we thought it was the perfect time to announce our Team Robot Blogger Award. We want to give back to those bloggers who work tirelessly, for no financial gain, and in their own free time, to read more books than we can even publish, and spread the word to the reading – and buying – public.
This award might be called the Team Robot Blogger Award, but it encompasses our three houses: Angry Robot, Strange Chemistry, and Exhibit A. And this is how it works: recently, we sent a shortlist of 12 blogs to our authors. These blogs were chosen by us as those we work with the most regularly and who we feel should be recognised. Our authors chose their Top Three from that list, and then we collated those figures to give us our winner.
We also wanted the authors to have their own say. What if one of their favourite blogs wasn't on our list? So we also created the Authors' Choice Award. Each author sent us through one blog of their choice – that wasn't on our short-list – and the winner of the nominated blogs was then chosen by Angstrom A. Robot.
The Prize
You mean public recognition of how much we all freakin' love you isn't enough? No pleasing some people. Well, it's just as well we have these super cool Robot Awards to hand! The winners of both awards will have this Angry Robot Army trophy sent to them, along with bucketfuls of our thanks. The winners, the short-listed blogs – and those others that the authors nominated – will be contacted to select three books of their choice, across the three imprints!
Without further ado, the Team Robot Blogger Award prize: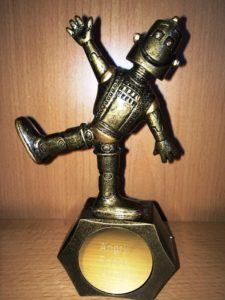 Team Robot Award
This award comes with our heartfelt thanks: for all the reviews, interviews, blog tour stops, cover reveals, last minute favours, support, chats, recommended reads, and mainly, for your love of books.
Congratulations to all our short-listed blogs, who – in alphabetical order – are:
We're going live with the winners of both awards in T-minus 1 hour, so do stay tuned!