The Winners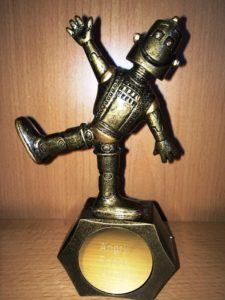 Well done to all our short-listed blogs, and those nominated by the authors. But we can only have one winner for each award, and here they are:
Team Robot Blogger Award
Congratulations…
There wasn't much between any of our short-listed nominees but Kristin came through with a last-minute flurry of votes! Congratulations Kristin, and thank you from all at Angry Robot, Strange Chemistry, and Exhibit A. Your trophy will be on its way, today!
Authors' Choice Award
We had a wide range of suggestions from our authors, from genre specific blogs to general book sites. Interestingly for us, there was no clear winner: every author brought us a different site that they personally love and feel should be recognised. With that, Angstrom A. Robot has selected one and…
Drum roll, please…
…the winner is:
Congratulations Josh, and your trophy will be on its way to you today, also!
Thanks to all our authors for taking part in this, and obviously to all our bloggers for their tremendous work! To all the authors short-listed, and those others nominated by the authors, well done and I'll be in touch for you to choose your three books!