About 4 weeks ago we ran a competition to recreate one of our book covers using toys, people, posts of custard – whatever.
The reason we've waited until now to publish the winners is not because we forgot to check the email account that the entries were sent into, oh no! The reason is far more interesting than that, we're sure – and when we've worked out what the reason actually is, we might post it here.
But probably not.
So, with no further ado, here are the top three entries in reverse order (click 'em to embiggen 'em):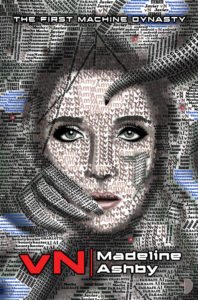 Straight in at number 3, a recreation of Madeline Ashby's vN made with words from the book, rather than discarded household objects, but we still think it's pretty groovy:
At number 2 we have a recreation of the Joey HiFi cover of Lauren Beukes' Zoo City, by Ellie Warren!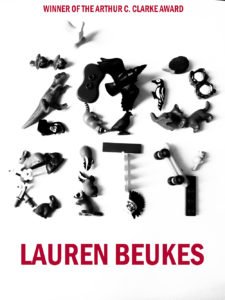 And the winner?
Well, somewhat controversially, the winner is also by Carol Riggs! It's a version of The Prince of Lies (one of the books that started this whole thing!) and it's a bloody good recreation  using an Etch-A-Sketch! The time and skill it will have taken to create this is impressive! Seriously – click on this one!
Goody-bags are on their way, Carl and Ellie! Congratulations to both of you!