Hey, it's Leah here, Angry Robot's new intern. Today's Robot Round-Up is a celebration of October's upcoming titles, and we have some brilliant ones to show you. First of all, keep your eyes peeled for our Special Edition post coming soon on Ramez Naam's amazing second novel, Crux.  Cory Doctorow, author of Little Brother and Pirate Cinema has described Crux as "A blisteringly paced technothriller that dives deeper and even better into the chunky questions raised by Nexus. This is a fabulous book, and it ends in a way that promises at least one more. Count me in." If this has whet your appetite, both books are out in shops now!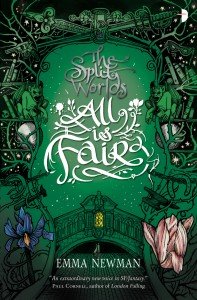 The first of the October titles is All is Fair by Emma Newman. The third in Emma's successful The Split Worlds  series. With many followers, readers are eagerly anticipating Emma's next instalment. Here's a sneak peak at some of the reviews:
• 'Newman's complex magical world is as inventive as it is charming, and this latest "Split Worlds" story contains deceit, deception and intrigue in all the right places.' Kirkus Reviews 
•  'The series is Changeling the Lost meets Downton Abbey as feuding families tied to mad Fae patrons scheme in the world between ours and Faerie, and in those as well.' Three Things to Read, Watch and Use
•  'I love the plot of this series, as there are so many interlacing stories going on that you feel like a part of something much bigger… one of my favourite reads of the year.' Book Chick City
•  'There's lots of action in this one, but there's still all of the court intrigue and wonderful characterization that I've come to expect from the series… the ending leaves plenty of hints of things to come, and I can't wait.' My Bookish Ways
• 'This is a fun book, adding more characters and different perspectives on the Nether and the Split Worlds, plenty of humour and excitement… I want to know more about the world Emma Newman has created, and I'm not ready to say goodbye to these characters yet!' Vicky Thinks
•'I do love the unique world Emma has created in this series, where two cultures collide, and there's some great bits of humour.'  Curiosity Killed the Bookworm
This title is released on the 3rd of October (UK) and the 23rd of September (US/CAN)
Our next October title is Prince Thief by David Tallerman. This is the third in David's Tales of Easie Damasco series and our
reviews have been singing its praise:
•  'With action, humour, adventures, and giants, The Tales of Easie Damasco is an enjoyable series which fans of fantasy and heist stories are sure to enjoy.' The Arched Doorway
• 'This series is solid adventure fantasy, but with a twist. The stock thief in Tallerman's hands is more than just a generic character. He's unique, a fresh and original creation with enough familiarity to him that readers won't be put off.' Adventures Fantastic
Praise for Giant Thief
•  'Damasco resembles a landlocked version of Jack Sparrow … The atypical backdrop, self-aware style and downplaying of magics bring to mind the contemporary fantasies of Scott Lynch and Joe Abercrombie.' SFX Magazine
•  'If you're up for a fun, fast-paced adventure featuring rogues, giants and lots of fighting, you won't want to miss it!' A Fantastical Librarian
Praise for Crown Thief
•  'It's a fun romp in a dark fantasy world and when you add to this great prose, top notch prose and combat to keep you glued, all in all this is a great second book for the reader to enjoy.' Falcata Times
•  'If you haven't met Easie Damasco, you should. You'll be glad you did.' Adventures Fantastic
This title is released on the 3rd of October (UK) and the 24th of September (US/CAN)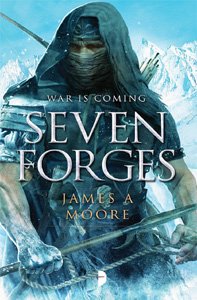 Our final Angry Robot title for October is  Seven Forges by  James A. Moore. 
•  'Unexpected plot twists, shocking revelations, total chaos. Everything I thought I was signing on for when I picked up this book, I got.' The Bibliosanctum
• 'This is fantasy on the scale of Terry Brooks or Brandon Sanderson… If you're a fan of fantasy, you'll definitely want to check out SEVEN FORGES. It is a solid, well-written addition to the genre, and I'm looking forward to see what Moore does next.' Shattered Ravings
•  'I finished Seven Forges in four nights, staying up later than I should to do so.  It's not often I'll stop and reread a scene, but I did more than once. I'm looking forward to see where Moore takes the story next.' Adventures Fantastic
•  "An excellent, enjoyable, and thoroughly entertaining fantasy debut into a new world of swords and sorcery, complete with romance, intrigue, and danger." Attack of the Books
•  I thought this was really intriguing, it's a fast paced story and fairly short for a novel of this type of scope… I will definitely pick up the next novel to see what happens in this world. Lynn's Book Blog
•  'Wow, that twist. In some ways I think I should have seen it coming, and I kind of did, but Seven Forges just lulled me into security and BAM! Craziness!… I  applaud a book that is willing to go as crazy realistic as Seven Forges did with that plot twist. I would very much like to read another story in the Seven Forges world.' On Starships and Dragon Wings
This title is released on the 4th of October (UK) and 24th of September (US/CAN).
Enjoy these, folks!