Hey guys!
Freya Robertson is currently blog touring around the blogosphere to promote her upcoming book, the brilliant Heartwood. To celebrate this, she has popped up a collection of short stories containing her prequel novella to Heartwood, Augur onto Amazon FOR FREE in order to thank you guys for all of your support! Augur also contains the very first chapter of Heartwood – what are you waiting for? Go grab your copy!
Augur by Freya Robertson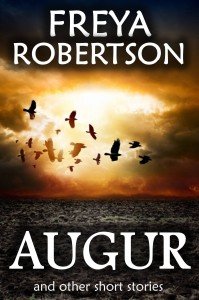 Unexplained deaths in a South African gold mine… Adventure and loss in the Bermuda Triangle… Strange creatures in the shadows at the time of the Black Death… Alternate realities where things aren't quite as they seem…
An anthology of fantasy, science fiction and historical stories, and a poignant tale by Chris Robertson.
Includes a bonus prequel and an excerpt of the epic fantasy Heartwood.