Hey guys, today I'm here to share a wonderful project undertaken by Upcoming4.me. They have put together an ebook of Story Insides including some of Angry Robot authors, with proceeds for the Epilepsy Action Charity. This book is a fascinating collection which features forty non-fiction essays on writing and editing speculative fiction by published authors! It contains essays from our own wonderful authors:  Lee Batterby, Freya Robertson, Mike Shevdon and Jo Anderton. This is such a wonderful idea and here is a little information about the book: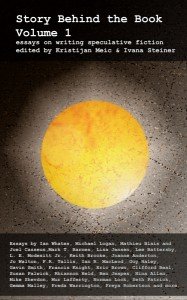 Story Behind the Book: Volume 1
"Story Behind the Book : Volume 1" collects nearly 40 non-fiction essays on writing and editing speculative fiction written by some of creative burst, worldbuilding, tackling writer's block, to the final process of publication. Some of the essays are personal, some rather technical but all of them, without an exception, provide an unique and fascinating insight into the mind of an author.the most exciting authors and editors. Essays cover everything from getting an initial
Contributors include Ian Whates, Michael Logan, Mathieu Blais and Joel Casseus, Mark T. Barnes, Lisa Jensen, Lee Battersby, L. E. Modesitt Jr., Keith Brooke, Joanne Anderton, Jo Walton, F.R. Tallis, Ian R. MacLeod, Guy Haley, Gavin Smith, Francis Knight, Eric Brown, Clifford Beal, Susan Palwick, Rhiannon Held, Ben Jeapes, Nina Allan, Mike Shevdon, Mur Lafferty, Norman Lock, Seth Patrick, Gemma Malley, Freda Warrington, Freya Robertson and more.
Follow the links to purchase your copy – remember all proceeds go to charity!