Hey guys, we have a stunning cover to share with you guys for the next book in Joseph D'Lacey's Black Dawn series. His first book, Black Feathers was a great success, with Tor.com describing it as "An exceptional piece of apocalyptic/horror/fantasy fiction" and Stephen King stating that "Joseph D'Lacey rocks!" Without further ado, here is the cover for the next in the series;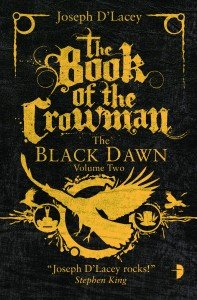 It is the Black Dawn, a time of environmental apocalypse, the earth wracked and dying.

It is the Bright Day, a time long generations hence, when a peace has descended across the world.

The search for the shadowy figure known only as the Crowman continues, as the Green Men prepare to rise up against the forces of the Ward.

The world has been condemned. Only Gordon Black and The Crowman can redeem it.
What do you think of our latest cover? 🙂