Today is my one-year anniversary of joining the Angry Robot team as the North American Sales & Marketing Manager. I came to Angry Robot from a job as a field sales representative, and while the surgical scars from the upgrades have faded, the amazing feeling of being directly in the action, championing authors, and supporting our incredible Random House sales team is fresh every day.
Some highlights from the year:
Attending my first WorldCon in Chicago all of three weeks into the job, learning the list on my feet, meeting fans and smart readers, editors Lee Harris and Amanda Rutter, as well as a huge swath of our authors. There was pizza, bowling, and much fun with book-wrangling.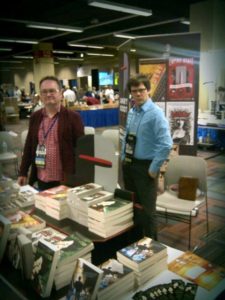 With Senior Editor Lee Harris, practicing my Blue Steel.
My first trip to the United Kingdom, meeting the rest of the Angry Robot and Osprey team, learning the joys of British rail (US trains cannot hold a candle to the Midlands line), and wandering around in a Waterstones getting a crash course in UK cover culture from Managing Director Marc Gascoigne.
Slinging charcuterie at the launch event for Chuck Wendig's The Blue Blazes at Singularity & Company.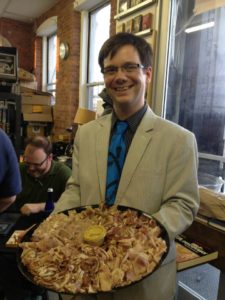 Charcuterie, in honor of Mookie Pearl, star of The Blue Blazes, while the Man, The Myth, The Beard, Chuck Wendig chats with a reader.
Rolling a critical hit in title presentation, applying my experience in order to present Angry Robot titles to sales reps the way I'd want to hear about them as a rep.
Seeing incredible sales numbers roll in for several authors, working closely with the Random House reps to move quickly to maximize the success of breakout books like Ramez Naam's Nexus, Cassandra Rose Clarke"s The Assassin's Curse, Wesley Chu's The Lives of Tao, and Sean Lynch's Wounded Prey. As a writer myself, helping fellow authors succeed is one of the most satisfying parts of the job.
Huge thanks to the whole team for welcoming me with open arms, being generous with their knowledge and their passion, especially to Marc Gascoigne, the best Robot Overlord a guy could ask for.
It's been a marvelous year, and this next year promises to be even bigger. I'm about to unleash a Massive Scheme on the North American marketplace, one that's been in the works the whole first year. And after that, who knows?