Angry Robot is thrilled to announce the acquisition of two epic fantasy books from
Anna Kashina
The deal for worldwide rights was negotiated by Angry Robot Senior Editor Lee Harris and Kashina's agent, Michael Harriot of Folio Literary Management, and includes a two-book series, The Majat Code. Book I, Blades of the Old Empire, will be published in March 2014, and the as-yet-untitled sequel will follow in July 2014.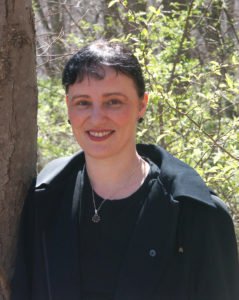 Anna Kashina: "I am very excited about this deal and my upcoming books. When Angry Robot announced a submission call for traditional fantasy, I felt it would be a great fit for my work, and I am so thrilled that everything worked out well and my series have found such a good home. I look forward to working with the Angry Robot team on realizing my decade-long vision of the Majat warriors and the magical world of the old Shandorian empire."
Lee Harris: "It's always a pleasure to read a great new talent, and Blades of the Old Empire – Book I of the Majat Code – is a great fantasy, and the start of an exciting new series. Anna's a real find." 
Michael Harriot: "Angry Robot is one of the most innovative and committed publishers around, so we couldn't be happier to launch Anna's career with the amazing team over there.  She'll fit right in with all the other exciting new voices they've done such a brilliant job publishing."
Blades of the Old Empire: To save the heir to a throne and his unique magic gift, an elite assassin is forced to choose between honour and duty, and risk everything in the process!
 About Anna: Anna Kashina grew up in Russia and moved to the United States in 1994 after receiving her Ph.D. in cell biology from the Russian Academy of Sciences. She works as a professor in a major university and combines her successful career in science and her passion for writing. Anna's passion for ballroom dancing, world mythologies and folklore has fed her high-level interest in martial arts of the Majat warriors. She lives in Philadelphia, Pennsylvania.
Anna's Online Details:
www.annakashina.com | @Annakashina | Facebook |
Previous Praise:
"Kashina's Arabesque novel … will have readers dream of summoning their own djinn." Publishers Weekly
"Substantial and vivid … Enthralling" RTimes Book Reviews
"A rich treasure trove of imagery, color, romance, intrigue, and mystery"  ForeWord Reviews (Featured Review)
"The art of dance has long thought to be something greater. 'The Goddess of Dance' is the second novel in Anna Kashina's The Spirits of the Ancient Sands Historical fantasy series, following Princess Gul'Agdar as she studies the magic that lies beneath the dance, pursuing it with passion as the world around her places on her the pressures of the day of marriage as a bargaining chip. With ancient mysticism and intrigue all throughout, "'he Goddess of Dance' is a read that should prove hard to put down."  Midwest Book Review
"I was drawn quickly into Anna Kashina's world—the sights, scents and tastes of Dhagabad … the continuing swirl of politics and intrigue." Mythprint (Mytholoetic Society)
"Truly compelling" Booklist
"A very promising new writer with a lot of originality, an exciting story, well-realized background, and vivid writing" Poul Anderson
"A fine recasting of the Arabian Nights' material for the fable of our times" Locus
"The Princess of Dhagabad is a beautifully written novel by author Anna Kashina. She creates a world of the Middle East that is sensual, subtle and vibrant. The characters of the Princess and Hasan are layered and subtle – both show an innate curiosity about the world but with realism that their wants are overridden by political and cultural requirements. The larger cultural setting has a significant place in the story and can be considered a character of its own in the book. This novel is a delight to read and Ms. Kashina is a truly gifted storyteller." Portland Book Review