Angry Robot Signs Marianne de Pierres in Two-Book Deal
Angry Robot is thrilled to announce the acquisition of two genre-busting books from Marianne de Pierres.  The World English and Translation rights deal was negotiated by Senior Editor Lee Harris and Curtis Brown's Tara Wynne. The first of this two-book series, Peacemaker, will be released in May 2014, and the as-yet-untitled sequel will follow in 2015.
 A true crossover, Peacemaker is a cracking combination scifi, fantasy, western, and crime.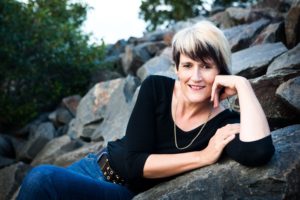 Marianne de Pierres: "I'm thrilled to be joining the Angry Robot team with the Peacemaker series as I truly admire the kind of books they publish. Not to mention that Trent Jamieson, Kaaron Warren, Lee Battersby and Jo Anderton are some of my favourite Australian speculative fiction authors. It will also be great to work with Lee Harris again, who I first met as editor of Hub Magazine when he published one of my Glitter Rose stories. Angry Robot's thinking is modern and explorative and a blast of pure oxygen in speculative fiction publishing."
Peacemaker: In the future, a ranger protects the last remaining piece of parkland in the shadow of a sprawling mega-metropolis.
Lee Harris: "I've been a great admirer of Marianne's work, ever since I started reading her brilliant Sentients of Orion series back in 2007. I'm absolutely thrilled to welcome her to the Angry Robot family and I can't wait for you all to read Peacemaker."
Tara Wynne: "Marianne's Peacemaker series and Angry Robot seem a perfect match. I look forward to nurturing this new relationship and to the books' success."
About Marianne: Marianne de Pierres is the author of the acclaimed Parrish Plessis and award-winning Sentients of Orion science fiction series. The Parrish Plessis series has been translated into eight languages and adapted into a roleplaying game. She's also the author of a bestselling teen dark fantasy series entitled Night Creatures. She lives in Brisbane, Australia. Marianne writes award-winning crime under the pseudonym Marianne Delacourt
 www.mariannedepierres.com             www.tarasharp.com
www.burnbright.com.au                     @mdepierres
About Angry Robot: Angry Robot is a genre publisher that brings readers the best in new SF, F and WTF?! All titles are released as paperbacks and major eBook formats. Distribution is through Random House (North America) and GBS (UK). Angry Robot Ltd is part of Osprey Group.
Contact:
Translation enquiries, contact Rights Executive Suzannah Brooksbank: SBrooksbank@ospreypublishing.com
 Publicity enquiries, contact Publicity Manager Caroline Lambe: caroline.lambe@angryrobotbooks.com