Gather round folks, and find out how you can win a signed copy of Three by Jay Posey!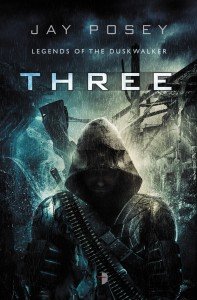 As part of Jay's Blog Tour for Three, "his stunning debut", we're running a Tour-wide Giveaway for two signed copies of Three. Each blog has an individual question, and answers can be found on Jay's Website, in the Book Description / Jacket Info, or by reading the Chapter 1 Excerpt. Simple!
Stay tuned to Jay's Blog Tour to read about Post-Apocalyptic Bounty Hunting; Jay's survival tips for the End of the world; how he built the world of the Duskwalker, and his favourite settings within; what inspired him to write Three; and much, much more! If that doesn't sound like enough, here's a taster of the reviews rushing in:
• "Three will unplug you! This powerhouse of an apocalyptic read cannot and will not be denied!" My Shelf Confessions
• "But even with action aplenty, Three is a novel about redemption and the return to humanity and Posey injects every character interaction with meaning and pathos to spare." 52 Book Reviews
• "This was very impressive [with] its fast pacing and well-written action sequences, sometimes alternating between the viewpoints of the various characters like you see in movies, creating this atmosphere of danger and suspense." The Bibliosanctum
• "The book has the hard-edged, gritty feel of postapocalyptic fiction. The dialog is terse; the action sequences pound along. But don't think you've escaped into a world without tenderness. It's there, even if in some cases its encased in armor and eclipsed by the need to survive." Book Realms
• "Three is a great start into a new series. The post-apocalyptic world that Jay Posey created in Three is brilliantly constructed, it's just chock-full of the cool stuff, futuristic gadgets (guns and the like), augmented people and not forget the Weir." The Book Plank
With 20 chances stops along the way, that's 20 chances to enter…so what are you waiting for? Hop over to My Shelf Confessions for the first Guest Post and Question 1!

BLOG TOUR LIST! (their # corresponds to the Question # that stop has!)