What a busy few weeks it's been here at Robot HQ; so busy in fact, that I've been shamefully slow since my last Round-Up! But what better to cheer up a rainy Friday (in Nottingham, at least) than a good look back over our recent highlights: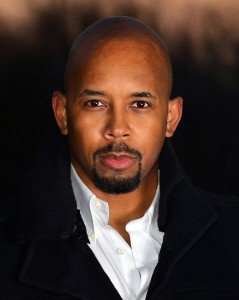 Let's start with yesterday's exciting news that Michael Boatman has become the latest AR author! If you missed the release, check out Lee's announcement here. Click through for all the info on Michael, his titles Last God Standing and Who Wants to be the Prince of Darkness?
This month we've released two titles: Madeline Ashby's superb sequel to vN, iD, and also Paul S. Kemp's second outing with Egil and Nix, A Discourse in Steel. Here's the big splash from launch day;  since then, they've both been kept in a dungeon, slaves to their computers busy with blog posts, interviews, and also kept happy with rave reviews. To wit:
• Bibliotropic Review on Madeline's iD: "Ashby has a wonderful imagination, an eye for detail, and characters that I don't want to part from. From the beginning of the first book to the end of the second, I was hooked, and I'm eagerly looking forward to anything that Ashby does in the future."
"It really is a modern I, Robot, but with a lot more grit, moral depth, and more interesting prose. Madeline Ashby ought to be seen as one of the big new names in science fiction." Hardcover Wonderland
• Madeline's blog tour featured interviews and blog posts, and she's a rare beast that always manages to say something fresh and new with each stop:
• Madeline speaks out on the SFWA Scandal on Dark Matter Fanzine in a piece brilliantly entitled, 'Stalin, Playboy, and Lady Writers'; talks to Civilian Reader about how to make Non-Humans Seem Human; 
• John Scalzi featured Madeline on Whatever's The Big Idea, and it's a moving read: on facing fears, on telling the universe "to fuck right off and die", and about living through the impossible. Read it.
• A Fantastical Librarian and My Bookish Ways have great interviews with Madeline, as does The Qwillery whilst Madeline faced up to Ten Questions About iD with Chuck Wendig, and My Shelf Confessions was lucky enough to nab Javier for a chat!
• Cheryl Morgan recently met up with Madeline and they sat down to discuss iD, and how Madeline uses robots to ask interesting questions about gender.
• SFSignal featured vN for a recent review and had this to say: "Unrelenting and surprising conflict drives a fast-paced read; genuine, human-robot dystopia; powerful character arcs; evokes series addiction." If you haven't already read vN, get it and you might as well get iD at the same time…I doubt you'll want to wait between books!
• Last night Paul took part in an AMA on Reddit and go there to see what kinds of dirt they had him dish up!
• The fantastic cover, by Lee Gibbons, rightly gathered attention pre-launch, such as on Graeme's SFF
• "Kemp gives us a great fast paced romp packed with action and with enough char­ac­ter and world build­ing to sat­isfy with­out slow­ing any­thing down." I agree, Eoghann.com! And check out these other amazing reviews:
• "This is adventure fantasy at its finest…Kemp is a superb writer.  If you enjoy sword and sorcery, adventure, and nonstop action, this is the book for you." Adventures Fantastic
The Founding Fields: "Egil and Nix back once again kicking serious ass in this sequel"
• Silver Pen Scribe: "enjoyable ride of pure fun fantasy."
• Being A Big Sandwich: It is in the characters, particularly Egil and Nix, that Kemp shines and draws the reader in…The interplay between the two is well-done, and their friendship is the bedrock of the story."
• Kobold Press: "This book has all the elements that fans of sword and sorcery should enjoy…The characters are deep and fun to get to know, the story is interesting, and the action is top shelf."
• Odd Engine: "filled with new magic and mayhem that makes it a truly enjoyable read."
• Mikel Andrews: "This is the fantasy you've been craving.. If you've been dying for some real originality in the fantasy realm – with a scene of revenge that would make even Kick-Ass' Hit Girl do a double-take – then Discourse in Steel is your next stop."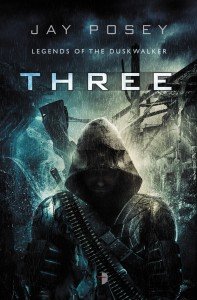 A forthcoming title that is receiving a lot of attention – and do stay tuned for Jay's impressive blog tour and a cool tour competition – is Three, the debut by renowned games writer Jay Posey. Take a look at some of these couple of early reviews:
• The Book Plank: "Three is a great start into a new series. The post-apocalyptic world that Jay Posey created in Three is brilliantly constructed, it's just chock-full of the cool stuff, futuristic gadgets (guns and the like), augmented people and not forget the Weir."
• Book Realms: "The book has the hard-edged, gritty feel of postapocalyptic fiction. The dialog is terse; the action sequences pound along. But don't think you've escaped into a world without tenderness. It's there, even if in some cases its encased in armor and eclipsed by the need to survive."
• If I could only show you the early reviews that haven't been published yet…but not long now! Three, the first title in the Legends of the Duskwalker series is out in the US & ebook on 30 July and in the UK and RoW on 1 August.
Our other August release is Chris F. Holm's third instalment in the Collector Series, The Big Reap, and take a look at some of the exciting pre-release reviews:
• Book Snobbery: "The Big Reap is the most ambitious of Holm's Collector stories so far, and the payoff at the end is huge.  HUGE"
• Tolerably Smart: "Book Three was a game changer much to my enjoyment"
• Raging Biblioholism: "Smart, funny and unassuming… Our world is a better place with Sam Thornton in it."
• Every Read Thing: "Sam is quickly becoming one of my favorite characters. While he carries with him the attitude of a blockbuster movie action star, he's also a tragic character at heart. In my opinion, this is Holm's finest work yet."
The tireless Emma Newman and her Split Worlds books continue to leave reviewers and readers alike feeling all kinds of happy; take a look at these:
• A Fantastical Librarian: "I think I loved Any Other Name even more than Between Two Thorns, if that's possible. [Any Other Name is] engaging, funny, romantic, and imaginative and placed Emma Newman solidly on my must-read list of writers. I can't wait for the conclusion to this story in October, when All is Fair is released. In the meantime, I think I'll go and reread some of the short stories set in the Split Worlds."
Thoughts from the Hearthfire "Emma Newman definitely knows what she is doing…In short, great characters, fabulous settings, complex plots, resolved threads within each book with plenty to arc across titles as well. I wholeheartedly recommend it!"
Kindle-aholic's Book Pile made me giggle with this one – it's so true: "You know you are getting into a book when you want to pull characters aside for a little chat. Will, you are an idiot. An idiot with good intentions, but you pissed me the hell off. Max, you need to listen to your gargoyle more. Mr. Sorcerer – there is something so very off about you. I feel some good bits of secrets spilling in book 3. I gave up sleep to finish this book and was very glad I did."
• And if you want to read more about Emma, check out this SFX interview! Don't forget that Emma also has some really fun stuff on her website. You can sign up for free Split Worlds short stories. Also, there is her Three Wishes campaign, as well as her new podcasts, Tea and Jeopardy. Emma's now up to Podcast 6 which is with Karina Cooper; previous hostages guests have included Chuck Wendig, Sarah Pinborough, Paul Cornell, Jennifer Udden, and Dave Bradley. So, grab yourself a mug of tea and settle down with Emma for some mild peril!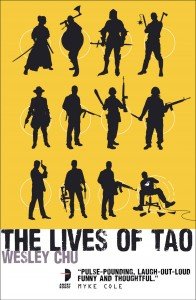 Mike, our fantastic North American Sales & Marketing Manager, and I had a great chat with Wesley Chu this week about all things The Deaths of Tao; for everyone anxiously awaiting the next instalment of Roen and Tao's adventures… T-minus 4 months! To those who haven't yet read The Lives of Tao, check out these reviews and prey tell me, how you've missed this summer blockbuster?
• Fantasy Book Review: "The Lives of Tao is a fun book with a lot of energy and it really worked for me. Full of action, adventure, martial arts, gunplay, and large quantities of geeky goodness."
• Sarah Says Read joins the now-squadron-sized army of those who all "want a Prophus alien living in my brain!" She loved it so much, there are bullet points to describe how (which I love!) but the summary says it all: "You guys, this book was just AWESOME. I literally don't have a single complaint about it. It was an action-packed, fun-filled joy ride and I can't wait to see what's next in store for Roen and Tao."
• Not a Natural Writer is certainly a Natural Reader and has this to say on The Lives of Tao: "The writing style is very easy to get into, and the story moves along at a fair old lick. The actions scenes in particular are very well crafted, with a great sense of motion, excitement and tension."
My Bookish Ways: "It certainly makes me think that there might something in all of us that can make us great (even if it's not an alien being), and it's Roen's humility, and yes, bravery, in the midst of a very extreme chain of events that makes this book what it is: one of the freshest, most fun debuts I've read in quite a while! I can't wait to find out what's next for Roen and Tao!"
• Vinx Books: "There's a dash of romance, plenty of action and the plot carries you along but with nice variations in pace so it isn't all go go go. It is all combined very well and I really appreciate that the violence is not romanticised or gratuitous. Roen's reactions to the fighting is very human and I think brings a moment of contemplation."
• Tiffy Fit: "imaginative, enjoyable, wondrous. "
And if you're not all Chu-ed out with those rave reviews, check out what the great man himself has to say:
• 52 Book Reviews Interview
• Only The Best Sci-Fi
• Civilian Reader
• Examiner.com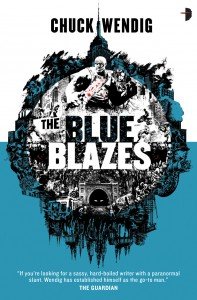 Chuck Wendig continues to own the internet, largely because he's too scary to stop*, but hey, it works out well for our books. Take a look at all of this goodness:
• "Wendig's filthy dialogue and layered characters mean that it's never less than raucously entertaining." SFX, August 2013
• Book Chick City: "The Blue Blazes is one hell of a read, with a complex cast of morally grey characters. It's a heart-stopping ride from beginning to end. I think it is my stand out book of the year so far."
• The Tattooed Book: "With superbly vivid characters, ballsy action and a ton of twists and turns Chuck Wendig hits home with another all round enjoyable novel."
• The Qwillery: "If you are looking for something well written and verging towards horror, then I urge you to read The Blue Blazes. I would advise not to read too close to bedtime, however, without checking under the bed a few times first!"
• Fangs for the Fantasy: "This book is stylistically excellent. It's thematically excellent. The writing is amazing. The characterisation is awesome. The world is incredible."
All Things Urban Fantasy: "Think Neil Gaiman's Neverwhere written as a mob book…I'm kicking myself for not checking out Wendig's work before now. Don't make the same mistake I did."
• My Bookish Ways: "The Blue Blazes is something very different, very twisted and very, very good. You'll have lots of fun-I know I did!"
• With a shout-0ut to the fantastic Joey Hi-Fi cover, CheffoJeffo also says: "A Rollicking, Riotous Rampage…The Blue Blazes is the most fun I have had in years."
For Chuck's dulcet tones, here's some handy interview links:
• Interview with Mahvesh Murad on CityFM89
• Podcast with NerdStravagana
• Eric Christensen
If you live, or will be, in Brooklyn on July 17, be sure to call to Word and see Chuck with Strange Chemistry author T.L. Costa as they consider the current state of speculative fiction, in both YA and adult. There'll also be a signing and a Q&A.
You'd think that would be enough of our authors working on taking over the world, but nope, we've got all of these who have also been busy…and that's the way we like them:
Mike Shevdon's series, The Courts of the Feyre, comes to a conclusion with The Eighth Court, and the mighty Tim Ward at SFSignal has this to say: "Fascinating magic; powerful and scheming villains; engaging and surprising mystery; epic conflict; dramatic and sympathetic conclusion to character arcs."
• No More Grumpy Bookseller: "The Courts of the Feyre series is a win in every way in my humble opinion – the world, the characters, the stories, the setting, the history…it's been a wild and crazy entertaining ride!"
• Lavie Tidhar's Omnibus collection of The Bookman Histories was released earlier in the year and Black Gate certainly recommend buying up this trilogy: "this is a guy who is clearly going places. Ignore him at your peril." The Bookman Histories contains The Bookman, Camera Obscura, and The Great Game and is available in the US and ebook.
We're fast approaching publication date for Ramez Naam's follow-up to Nexus, Crux, and here's an early review from the IEET: "I advise readers to start with Nexus, but then to pick right up with Crux. Both books are excellent, thoughtful, and fast-paced. They are worth your time, and will leave you thinking hard about some core future questions."
With the excitement building up towards the release of Crux, we were delighted to announce we've signed Ramez up for a third book, which will be released in late 2014, and here's LitStack reporting on the deal.
If Reggie Lutz had this to say about Empire State: " He makes the reader feel that we understand and recognize the place we are in the fiction…which makes the plot complications and world-instability issues contained therein all the more effective." and Fantasy Faction say this about The Age Atomic: "[Since Empire State] Adam Christopher has grown as a writer and the growth shines through here, his prose has become stronger, his characters more real; his ideas, settings and themes bright and full of depth…he's grown to a stylish and exciting writer, with ideas that are full of adventure and mystery.", how damn good does that make both Empire State and The Age Atomic!
And on that note, I'm outta here – well as far as the café for lunch, but you know what I mean.
Happy Friday, everyone!
Caroline


*Chuck is the nicest man in the world. Fact.**
**I've never met him – but, so I hear.