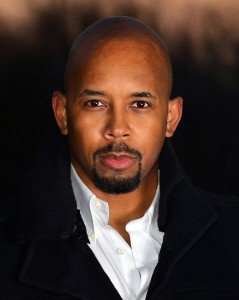 You'll know Michael Boatman from his work on TV shows such as Spin City, Anger Management, The Good Wife and Gossip Girl. After a lifetime of excelling on-screen, Michael has at last reached the zenith of his professional achievements, and become…
[note to self: insert fanfare image and sound effect here before the blog post goes live – don't leave it too late like you did last time]
… an Angry Robot author!
Joe R. Lansdale said of him, "Michael Boatman writes like a visitor from hell. Someone out on short term leave for bad behavior. I love this stuff. He's one of the new, and more than promising, writers making his mark, and a dark and wonderful mark it is."
Michael has been signed for two books: Last God Standing and Who Wants to be the Prince of Darkness? In Last God Standing, all hell breaks loose when the God of Abraham decides to join the human race and see what all the fuss is about…
Michael was signed by Angry Robot's Senior Editor, Lee Harris (who still finds it odd writing about himself in the third person), who said: "I was delighted when I received Last God Standing from Michael. I've been an admirer of his television work since Spin City was first broadcast nearly 20 years ago, and Michael's writing is as accomplished as his performance work. Last God Standing is precisely the sort of book Angry Robot's list was missing – smart, pacy, with exactly the sort of irreverent humour that appeals to our readers."
Michael's response?
"I'm ecstatic for the opportunity to work with the good folks at Angry Robot! After reading great novels like The World House and Zoo City I suffered one of those "Eureka!" moments, thinking Angry Robot might provide the perfect home for Last God Standing. Bold and subversive, A.R. just felt right. After more than a decade of writing fiction, and with my fair share of acceptances and rejections (mostly rejections) I submitted the manuscript and prepared for the inevitable "Thanks but no thanks," as any writer must if he hopes to avoid a steady diet of Thorazine fish-sticks. But lo and behold, Angry Robot said "yes." Their acceptance confirms that I haven't gone completely bonkers. (At least not yet!)"
Michael's first book for Angry Robot is scheduled for publication mid 2014.