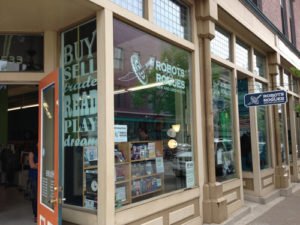 Earlier this month we asked you to tell us about your favourite indie bookstore (go read this post for details – it's ok, we'll wait).
Brandon Stenger wrote to tell us about Robots & Rogues in Lafayette, IN (and what a great store name!)
In Brandon's own words:
The owners, Tricia and Kevin, have been selling books for years. They're always friendly and welcoming, and love to talk books. They will give recommendations, especially if you ask, but I've never felt like they're pushing me to buy anything. They just love to read and want to clue people in to great reading experiences.
They don't just sell books though, they've made incredible efforts to become part of the community since they opened the shop two years ago.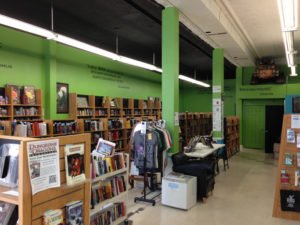 They have SFF & drama book clubs that each meet once a month and they've made their store a hub for local gamers. There are several role-playing campaigns that meet there regularly and Munchkin & boardgame days usually monthly.
They've also opened their store to local and regional writers, hosting signings and selling their books, as well as playing host to the local writer's group meetings every Friday evening.
It is a rare week that I'm not in the shop at least once, if not more. Tricia and Kevin have created a shining example of what an independent bookshop can be.
________________________
Brandon has been sent some Angry Robot goodies for taking the time to share the wonders of his local store with us. You can do the same. And next time you're in Lafayette, why not call into Robots & Rogues? It looks like a fabulous store!