Any Round-Up that's starting out with a nod from Barnes & Noble Review is going to be a good'un!
Not only did Angry Robot HQ get a shout-out for for our "offerings [that] always seem packaged with an appealing extra measure of excitement, zest, and thrills sometimes lacking with more sedate and long-established publishers", but they highlighted recent titles, Black Feathers by Joseph D'Lacey, The Age Atomic by Adam Christopher, and The Lives of Tao by Wesley Chu, as three of our "most recent charming books"!
The SF Signal Mind Meld also features Adam Christopher, along with Chuck Wendig and Strange Chemistry's Gwenda Bond as they discuss the appeal and power of mythological powers, and what they bring to genre fiction.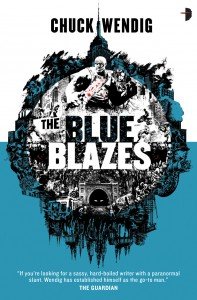 It's been a busy week for Chuck here at AR. We were delighted to announce this week that he has signed up for two more books (which he talks about here) starting in early 2015, and the released-next-week book, The Blue Blazes continues to set the review world on fire (a blazing fire, as it were…) To wit:
• The mightiest of mighty sites, Tor.com  has this to say: "It's violent and funny and noir without taking noir too seriously… full of outrageously gory scenes and larger-than-life characters."
• This is Horror had all of this to say:
This is gritty urban fantasy as it should be done. Wendig has once again pulled that inimitable magic out of the bag and created something splendidly unique. The action is so thick at times that you might need to check you're still breathing, and the twists keep on coming. So much fun that, like the five occulted pigments, it should be illegal.
• Fantasy Faction have not only declared the first Mookie Pearl book: " a fun, fast-paced novel that blends the best of noir, a Dungeons & Dragons Monster Manual, and melodrama into something special" but have interrogated Chuck about all things The Blue Blazes.
• If you like getting more into the man/monster/monkey behind the books, here's a YouTube video for the Urban Fantasy Fans community!
• Shadowhawk, him offa The Founding Fields, gives The Blue Blazes a smashing rating of 8 out of 10, and has this to say:
"Gritty, visceral, emotional, and damn good fun. These are the words I'd use to describe the novel. Its not a book for the faint-hearted!"
• SFF World continues the praise for Joey Hi-Fi's amazing cover ("Perfection in a book cover"), with Rob praising The Blue Blazes as a " novel/story with a rough, hewn-leather exterior of action and violence with a powerful, emotional core."
• It wasn't just The Blue Blazes feeling the love this week, as Kai Kiriyama, with the best rating scheme ever, gives Miriam Black and Mockingbird "5 gored-to-death-by-a-Canadian-Moose out of 5".
• Adventures Fantastic: "The action in this one moves fast and furious.  Wendig has crafted a compelling mystery, a suspenseful thriller, and a gritty urban fantasy with a dash of Lovecraft."
• Finally, if you haven't delved into the madness that can be Chuck's Terrible Minds site, you should definitely start here with two great blogs: Bookish Turn-Offs? and What Gets You to Read a Book? There's a whole lot here that publishers and writers could learn from, and some interesting feedback from readers.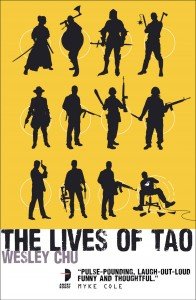 • Books, Bones & Buffy are lining up to interview Wesley and give away their ARC copy, so do keep an eye on the site, but they also had this to say: "an ingenious concept, flawed but likable characters, exciting action sequences, with an emotional payoff at the end." PS: Great site name!
• "unique, fun, addictive and highly recommended to lovers of science fiction" so says Literary Grand Rounds on Wes' debut hit!
The juggernaut that is Wesley Chu's The Lives of Tao continues to woe reviewers and readers alike. We're talking really woo, like how about SFF Signal-4-out-of-5-stars- rave-review woo?
Wesley's Chu's debut novel is fast-paced, clever, and leaves you longing for the next installment.
Carrie's certainly not the only one who can't wait to read what happens next! I would suggest an orderly queue be formed, but well…I think that's a whole step too far for the Robot Army. Roll on November!
• Radiant Attack have reviewed The Lives of Tao and found it "an entertaining and funny read." Kat also mentions the "pretty spiffy cover" as well!
• The ever-lovely Mieneke at A Fantastical Librarian has not only introduced me to what sounds like a great show, Chuck, in her review, but also (and most importantly!) calls Tao "funny, entertaining, and exciting read"
If like many others, you (yes, you…stop looking over your shoulder…I can see you, you know) are eagerly anticipating the release of Madeline Ashby's second Machine Dynsasty book (25 June for US/ebook and 4 July for UK), iD, whet your appetite with these reviews:
• With a great review title "Hail the Robot Army: iD by Madeline Ashby (or a well-placed kick to the head)", iD has everything to keep Giro happy: "sex and violence and so many geek references"
• Celtic Frog Reviews praises Madeline's characters whom "are richly drawn and engaging" as well as for "not dumbing down the computer and technical stuff and [thus] her systems hold together well." CFG recommends iD "for fans of hard scifi and those of a more sociological outlook."
Emma Newman's second Split Worlds book, Any Other Name will be unleashed into the world of Mundanas next week (yay!) and she's struggling to keep her characters' excitement in check. So much so that Max and Gargoyle have been speaking to Mieneke at A Fantastical Librarian and Lisa at Over the Effing Rainbow. Next week should hurry up, or who knows where else her creatures will turn up! (If you're interested in how exactly Emma had these characters cross-over, check it out here)
• Emma spoke to Leslie at Working for the Mandroid on all things Split Worlds, Three Wishes, and with a small plug for Tea & Jeopardy
• Uncorked Thoughts have followed their recent rave review of Between Two Thorns with an even better review of Any Other Name! 5 out of  stars for the second in the trilogy in which the "world building continues to be phenomenal and the writing is beautiful."
• Book Chick City give Any Other Name 4.5 start out of 5, and are excitedly awaiting the final instalment in the trilogy…5 months and counting!
If, like most readers of Paul S. Kemp, you're struggling to contain yourself as the release for A Discourse in Steel: A Tale of Egil and Nix slowly gets closer (25 June for US/ebook and 4 July for UK) get yourself over to Tor.com for an exclusive look at Chapter One! Paul also has it on his site, where he has other snippets from this series.
• As we build up to the release of A Discourse in Steel, The Hammer and the Blade is still busily gathering coverage with Meg Gibbs at The Portland Book Review having all this to say:
In the style of a classic fantasy dungeon crawl, this is a fast paced book about friends having wild adventures. At the same time it clings to the traditions of the genre, it shatters others entirely. Unlikely and unexpected friendships form in well-plotted action scenes. The book stands as an excellent and enjoyable fantasy adventure book, as well as a thoughtful look at the treatment and role of women in fantasy. Just the book for someone missing a little pulp with a different outlook.
Upcoming4.me have a very moving piece by Mike Shevdon, as he approaches the publication of his final book in The Courts of the Feyre. This "Story Behind the Story" gives a real insight into what it's like to "say goodbye" to characters that Mike has been writing for a decade, over four books. The Eighth Court has been preceded by Strangeness and Charm, The Road to Bedlam, and Sixty-One Nails.
And finally, rounding off a great Robot week is this review from Joseph D'Lacey's Black Feathers from Working for the Mandroid: "D'Lacey melds an apocalypse with shadow horrors all within a world where nothing seems quite real while at the same time nothing can be written off as imaginary."
Well folks, I did say on Twitter I'd be busy with the Round-Ups! If you want to see how the fellow AR imprint authors over at Exhibit A got on over the past week, be sure to click on over. I'm not here next Friday so it'll be a bumper edition in a fortnight.
Happy bank holiday weekend, everyone!
Caroline