Gather round drones, and check out what has been amazing couple of weeks for all things robotic and brilliant…actually makes us a little bit less angry, but don't worry as it won't last. Prepare yourselves…it's a long 'un.
I think it's only right that we start off with the great news from the US, that Angry Robot has been shortlisted at the Locus Awards for Best Publisher. Not only that but Madeline Ashby's vN has been shortlisted in the Best First Fiction category, and fellow Angry Robot author Aliette de Bodard is up for Best Novella and Best Short Story! Couldn't be better timing with Book Two in the Machine Dynasty, iD, coming very shortly! Check out Lee's post on this good news.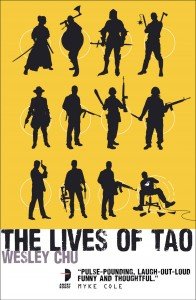 Wesley Chu continues to take the world by storm with Tao & Roen in The Lives of Tao with reviews, interviews, and blog posts popping up left, right, and centre.
Reviews:
• Normal in London loved the book: "There are comic moments, there are tender moments and there are moments where I wondered what I would do if I had an alien inside me, and moments where I wished I did as it might push me into doing stuff! The climax was especially strong, and somewhat unexpected. And it has left me wanting more Roen & Tao." There's definitely a business opportunity for Wes if he can provide aliens for all the reviewers looking for their own Tao!
• Dangerous Dan awards Tao "four easy stars"  believing the "ending[…]was perfect for the story and left it open-ended enough for future adventures of Roen and Tao."
• Always Unmended don't just focus on the fact that "Chu's writing is strong, and his ability to write tragic, heart-rending scenes into such a fun, easy story is proof that he's found his calling as a writer" but also believe we can all learn something from Roen: [the book] "contains inspirational advice that is bound to make readers reflect on their own lives. There is much about being the person you want to be and not making excuses to let yourself fail. Much as the practice of Tao is The Way of life, the character of Tao shows Roen the way to live fully. And isn't that something we could all use a little help with?" Now. Go out there and live your live…after the pizza dinner, it is Friday evening after all.
• For a review with a spin, check out Richard's rhyming review; I can't even pull a line from it, it needs to be read in whole…what are you waiting for? Shooo!
• Feathers & Tea get their review off to a great start, calling Chu's debut "another triumph from the Angry Robot publishing stable", why thank you! It continues thusly: "Chu's writing is sparingly skillful [and the] key premise is novel and handled deftly, the transition of Roen from bumbler to Commander is a joy to read, and the book is as laced with humour and flashes of poignancy as it is with action scenes"
• The Lives of Tao has even managed to impress the self-proclaimed cross-genre wary 42 Webs! "The Lives of Tao is one of those good books that pulls off the mash-up perfectly.  We get the full sci-fi feeling combined with the spy genre without either side getting diluted or ignored.  We get the full effect and in turn get a character we care about.  Roen becomes the mix between James Bond and Ezio Auditore da Firenze (Assassin Creed 2, Brotherhood, Revelations)."

• "The most fun I've had all year" Staffer's Book Review
• Mike over on Stuff and/or Junk calls Roen & Tao "a sci-fi action Odd Couple" – I think the most apt description I've heard yet!
• Wes & the Prophus' global domination continues with i109 proclaiming The Lives of Tao one of the Astounding Summer Reads!
• The Lives of Tao is "top notch entertainment" and "the perfect summer read" The Eloquent Page
• The wonderful 52 Book Reviews allow no excuses for anyone not reading Chu's amazing debut: "Chu's cunning and hilarious mash-up of comedy, coming of age drama, espionage thriller, and science fiction has something for everyone."
• Matthew Scott Baker is very excited about Tao! It's "very clever with fun/deadly characters and a high-paced plot. Be ready to drop your social life for a few days, though…you will definitely want to use your free time finishing this one up!"
•Bandelier Girl Reads Everything is short and sweet with Tao: "A nice mash-up of genres that moves the reader thru the story with humor and interesting characters. Recommend."
Blog Posts/Interviews:

• Wes has been interviewed on many a website, and get yourself over to Toonari Post, Sci-Fi Fan Letter, and Bastard Books…for a mammoth, brilliant, read which also includes a giveaway!
• Check out Stellar Four for Roen's drink of choice, and Wes talks about Aliens on Dribble of Ink.
• Wes had a guest post with Mary Robinette Kowal which you can catch here
Events:

• Wes has also been busy with some fun & games and with the coolest cake ever, launched The Lives of Tao in Chicago. Take a look at the photos on Wes' Facebook page
• If you're in Chicago – or will be – on May 19, you can catch Wes on a panel at Open Books: 213 W. Institute Place Chicago, IL 60610 (1 block north of Chicago & Franklin el stop.) See the Open Books Website for further details.
• If you can't make Chicago, Wes will be at WisCon May 24-27, on 4 panels no less, and for more info: check it out here
• And if Tao & Roen hadn't provided Wes with enough to celebrate, didn't he only go and win the April Debut Author Challenge Cover Wars over at The Qwillery! Thanks again to Argh! Oxford for the great cover! Here's an interview The Qwillery also did with him.
• Adam Christopher's The Age Atomic has a very cool video review over on I'm Ellie Ann
• Paper Mages is putting future reading trust in the hands of Adam, a very wise move, whilst also praising Christopher's dynamic characters!
• Listen in to Adam's radio i/v on City FM 89 here
• And, it might be belated posting on my behalf, but check out the Bane of Kings review over on The Founding Fields: "A wonderful novel, The Age Atomic proves that Adam Christopher can write sequels just as well as anyone. The most fun read of 2013 so far, and one of the best."
The wonderful Emma Newman has had the internet all a flutter between reviews for Between Two Thorns, advance talk on Any Other Name, the wonderful Three Wishes, and also her new podcast, Tea & Jeopardy!
Reviews for Between Two Thorns & Any Other Name:

• "JK Rowling meets Georgette Heyer " so say the Guardian along with praising how Emma "renders the Split Worlds with verve and an infectious sense of fun, and presents in Cathy a strong and personable heroine." Get in, Between Two Thorns!
• "Between Two Thorns is in essence a mystery, with a dash of magic, suspense and intrigue combining with just a touch of romance, polictics and feminism to freshen it up a bit" Boy, do Vinx Books love Between Two Thorns! Vinx also highlights Em's amazing short stories based in The Split Worlds, and the Three Wishes, thanks Vinx!
• Uncorked Thoughts give Between Two Thorns 4 out of 5 stars, and declare the "story…an Austinesque fantasy, filling every chapter with action. I loved learning about this new world and am looking forward to sinking my teeth into the next book!" You don't have long to wait, Leah!
• A Writer's Sidequest is another eagerly anticipating the release of Any Other Name, having fallen in love with Between Two Thorns!
• 5 out of 5 stars. Why, thank you very much Geek Syndicate. "A word of warning, make sure it is somewhere comfortable though as once you start this magical book, you won't be going anywhere until you finish it. Absolutely brilliant." Just one of the many excellent proclamations from them, and rightly so!
• Here's a review for the forthcoming Any Other Name from My Dear Bibliophage who call it "enchanting, shocking, and well-crafted"
Interviews:
• SQ Magazine have a great interview with our Em; find out what she thinks about the challenges facing female speculative fiction writers in today's publishing world, amongst much more. Emma also has a short-story in SQ, here
• Keep an eye on Emma's Split World interviews page for all her oot-and-abooot happenings!

Three Wishes:

• If you haven't heard about Emma's fantastic new project Three Wishes, you're missing out on your chance to have some magical wishes come true! Get involved: make your wish but also try grant somebody else…it's a magical Pay it Forward, and we like it! Read more here.
• Urban Fantasy Land have definitely got on board with Three Wishes and are urging everyone to be "part of something very exciting, wonderful, and of course, magical!"
Tea & Jeopardy:
• Geek Planet Online are very excited to have Emma onboard with her new podcast, and rightly so, it's great! Check out the first podcast with our very own Chuck Wendig: Tea & Jeopardy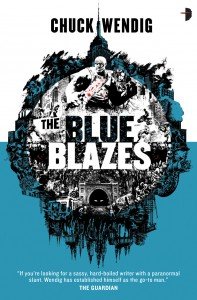 Chuck has kept the web busy with both Mookie Pearl and Miriam Black:
The Blue Blazes:

• For something "dark, gritty and fun" Three Crow Press recommend Chuck's first Mookie Pearl novel, The Blue Blazes. True that.
• "Wendig has taken the cast of Goodfellas and dragged them, kicking and screaming into a fantasy reality of New York, opened up the playground and let them run loose", so says Wilder's Book Review, who continues: "The dialogue is crisp and flows quickly, with a dark humour which Wendig relishes throughout…It's a style which Wendig is well-known for and as my first Chuck Wendig novel, I found it to be a real breath of fresh air in a subgenre which sometimes feels a little stuffy and manufactured."
• Odd Engine  starts a glowing 4 star review with a shout-out to Joey Hi-Fi for the amazing cover, and continues by praising the "punchy dialog, snappy prose, and a gritty narrative voice", calling The Blue Blazes "inventive, edgy, and a joy to read"
• Elf Machines from Hyperspace (what a cool name, and you're welcome for the ARC!) after one book has declared Chuck's writing "imaginative, funny, profound, tough, and poetic all at once" and they ain't wrong!
Blackbirds:
• Blackbirds is "a bit fucking wrong" (a quote courtesy of Miss BookCunt) which for PublishThings sums up the second Miriam Black novel perfectly!
• The Cheape Book links Blackbirds with the perfect director: "This book begs to be done as a movie by Tarantino if he hasn't already" Are ya listening, Quentin?
Finally, The 52 Review has a great interview with Mr Wendig, and if you're an aspiring writer you definitely want to check out when he says about finding your own voice
With good timing as A Discourse in Steel's publication date (25 June / 4 July) is fast approaching, Geeks versus Nerds are talking all things Paul S. Kemp and The Hammer and the Blade: "This book is wonderful, funny and exciting with a pinch of spine shivering evil added in for flavor."
The beautiful story that is Cassandra Rose Clarke's The Mad Scientist's Daughter has certainly made an impression on ScienceFiction.com, who call it a "fantastically written science fiction novel about love and society".