Cheesy title groan.
But how and ever! April saw the release of just one Angry Robot title, and boy, do I imagine the bloggers are happy as Wesley Chu has taken over the internet with reviews, interviews and guest blogs galore, and I'm not sure there would have been time for much more Angry Robot greatness.
Chicago Party!
Are you in Chicago this weekend…or do you have your own private jet? Celebrate with Wesley in person at the NV Penthouse Lounge, where you can join Matt Forbeck and a host of other guests for an undoubtedly fantastic party!
If you're unable to fly across the Atlantic, join us here and now to celebrate Wesley's publication week, and the success of our Open Door scheme which you can read Wes talk about on Carrie Cuinn's site, by checking out some of the fantastic reviews and features so far for The Lives of Tao:
•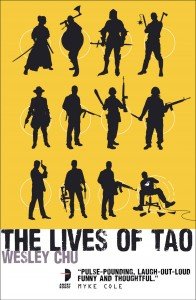 "I really enjoyed The Lives of Tao and had a hard time putting it down. It's a great addition to the science fiction catalogue and a great read" so says Lit Nerd Around the World.
• Popcorn Reads declares Wesley has "combined a spy thriller with sci-fi, with nods to comic books and a strong dose of humour" creating "a fun thrill ride of a novel". The "empathetic anti-hero" in Roen gets an especial nod from MK and if that's not enough it's recommended as a summer read…and movie material, and who are we to argue with reviewers? Popcorn Reads are also running a giveaway, so pop (sorry, it's the looming bank holiday creating the corniness….sorry again) over to their site for the competition!
• Roen Tan is Kung Fu Panda…a perfect comparison! The brainchild of Katrina from Afterglow Book Reviews, she is not alone in finishing the book whilst "wishing you had a wise (and wise-cracking) alien like Tao in your head." Read it for the funny, says she! Afterglow's Bill calls The Lives of Tao "one of the most unique spy books you will ever read in your life" and highlights the humour but also the "action when you least expect it and an ending that you would never see coming."
• Shadowhawk on The Founding Fields: "Vividly entertaining, this is a book that looks past the lively and thrilling glamour of life as an international spy and also merges several genres together into a cohesive whole to tell a story that rocks from start to finish." For the full rave review, and to see why he gives it 8.5/10 check out the full review and be sure to stop by at the giveaway page for your chance to win a copy.
• Untitled*United doesn't just call The Lives of Tao " fast, clever, and a lot of geeky fun" and "ridiculously good" but declares the "action scenes are brisk, the dialogue is genuinely funny, and there are also some touching scenes that Chu handles well. He's adept at keeping all of those emotions carefully balanced, and moves between them deftly, making sure the humor feels organic, never forced or jarring."
Footnotes also highlight the movie angle, and whilst readily admitting that the book is not this reviewer's cup of tea, he still has many praises for it The Lives of Tao as "a fun journey, [where] the internal dialogue between Roen and his new teacher and partner is lightning-quick and snippy" and "well worth a read for any fan of this genre."
• Only the Best Science Fiction and Fantasy give Wes and Tao 4 out of 5 stars: "Great ideas mixed with great action and a non-stop pace made this book extremely hard to put down. Bravo, Mr. Chu!"
• Speculative Book Review After recommendations from Bastard Book's Bastard and Only the Best Sci-Fi/Fantasy, SBR's Tyson is thanking the gentlemen for their advice! "full of action packed goodness and tells a intriguing story that would be a crime to miss."
• Check out Wesley's site for his blog tour dates, and try your hand at another giveaway for The Lives of Tao over at The Book Smugglers where Wes has a guest post.
• Chuck Wendig's brilliant Terrible Minds hosts Wesley and ten questions about The Lives of Tao; head straight over for an insight into how Wesley wrote the book, what he learned, and what's next for him as a storyteller.
•
The fabulous and fantastic Kristin on My Bookish Ways has a superb interview with Wes over on her site…off you go, fly, fly…or simply click the link here and your fandagly computer will bring it to you.
• If that's not enough, the big beast that is John Scalzi's Whatever featured Wes and the "Big Idea" behind Tao.
• And where better to wrap up for the weekend than with this quote from Matt Hughes at Adventures in Sci-Fi Publishing: "As a novel, The Lives of Tao is a super-hero, science fiction, alien contact, and spy thriller all wrapped into one. It's also funny and thrilling with a touch of a buddy comedy thrown in. I got hooked right away and when all was said and done, I can safely declare it as my favorite novel of 2013 so far."
I'm going to leave you here for the long weekend, folks, and whilst it may be all from me until next Tuesday, you can be sure it's definitely not all from Wes, Tao, and Roen. Have a great bank holiday weekend and make sure you check out our regular Robot Round-Up here next Friday!