Caroline here for my first Robot Round-Up, and what a gathering it is!
The week of April 15 was off a great start with Damien Walter's Guardian round-up of the best young novelists from SF's universe, even more so with not 1…nor 2…nor 3…but 4 Angry Robot authors being highlighted. Lauren Beukes, Madeleine Ashby, Aliette De Boddard, and Chuck Wendig are definitely four writers who, simply put, "tell great stories".
Courtesy of @EMAldred, I present to you the wonderful display of Angry Robot Books in Foyles St Pancras: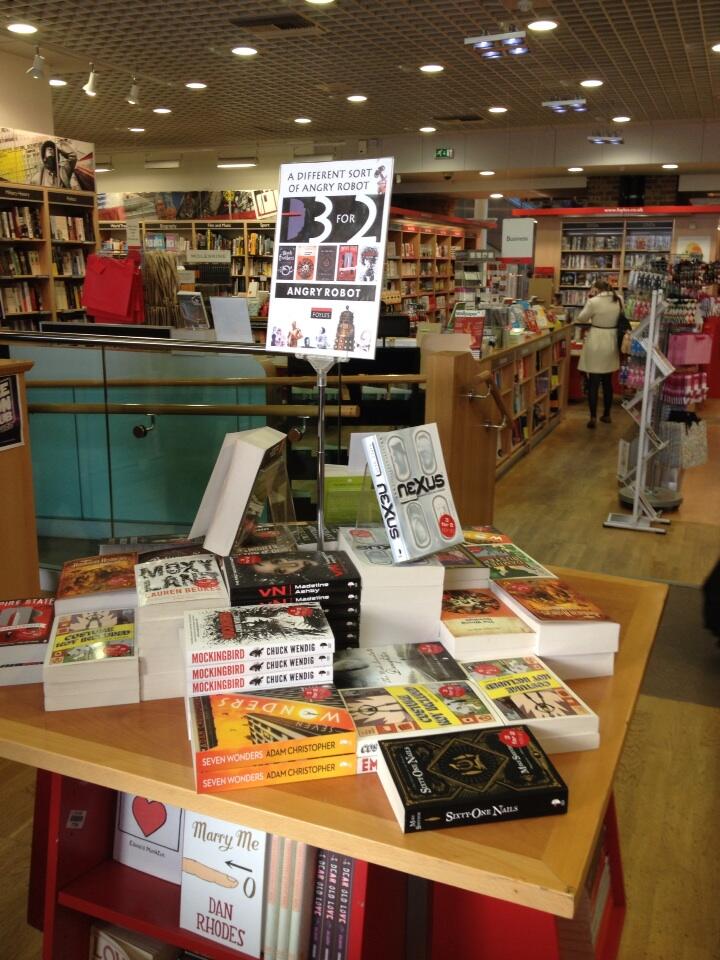 I do like it when authors promote their stable mates and Joseph D'Lacey's tweet does just that, with this photo of Adam Christopher and Emma Newman from WHS.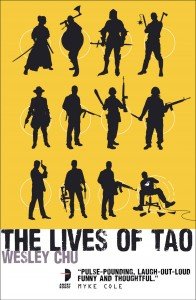 As we fast approach the publication date (April 30 for US/ebook and May for 2 UK) for Wesley Chu's debut novel, The Lives of Tao, the reviews are coming in thick, fast and impressive…just the way we like them!
• Over on The Founding Fields Bane of Kings declared The Lives of Tao to be an "awesome, fun read" whilst Upcoming4me not only agreed, likening it to "the best carnival rides, it is unlikely that you will forget it anytime soon, they also were lovely in praising the noses of our editorial Overlords in sniffing out new talent…thank you!
• Wesley and The Lives of Tao were busy on Fantasy Book Critic with Wesley's Guest Blog on what goes into a great villain such as Sean Diamont, and after picking up his blown-off socks Mihir Wanchoo excitedly reviews The Lives of Tao as "one of the best amalgamations of SF, Thriller, buddy-stories, comedy and other genre assortments, which was even more impressive because it's a debut and is funny as hell." Nice!
• Troubled Scribe's Liam is currently searching for his own brain-sharing alien but before he left, he described The Lives of Tao as "a fun, exciting, alien, sci-fi romp through history and espionage. Tao has had way too many lives to meet them all, but you should be sure to give it a shot by reading this book!" and gave it 9 out of 10 Liams.
• Christal on Badass Book Reviews highly recommends The Lives of Tao to all "those looking for a uniquely modern science fiction yarn" and reckons it to be an enthralling debut!
• If you want to hear Wesley reading from the book, check out this YouTube link, courtesy of William Shunn.
• Wesley has taken part in a number of SF Signal Mind Melds recently, one such talking about humans and AIs, which also featured Madeline Ashby whose second Machine Dynasty novel iD will be out in June.
• Every Read Thing interviewed Wes, and there you can read about his books of 2012, favourite books and authors, his love for sci-fi, and some of the ideas and research behind The Lives of Tao. 

• Kirkus reviews have picked The Lives of Tao as one of their April picks: check it out here
• Jessica at the Apex Book Company has highlighted Wes' debut as a recommended read
• The Qwillery are continuing their Debut Author Challenge Cover Wars and April features the fantastic cover of The Lives of Tao (by Argh! Oxford). Click here to vote!
• Finally, here's a link to Wesley's blog where he has a great list of interviews and blogs to date, plus forthcoming!
More reviews for Adam Christopher's The Age of Atomic:
• Adventures Fantastic not only currently have Adam Christopher's books in their Featured section but have been writing about The Age Atomic and the fast clipped action within. With "plenty of chases, fights, and intrigues for fans of pulp fiction", they demand readers to Pick. It. Up. Their sentiment; my bossy intonation.
•Over on The Fiction Stoker The Age Atomic is awarded four strokes out of five, and rightly so for it is declared "relentlessly entertaining" and with a "remarkably striking and disturbing villain" in Evelyn McHale, "fans of funny robots, pulp detective novels and genre-bending will find much to like".
• Make sure to keep an eye on the forthcoming April issue of VS Comics for an interview with Adam.

• The Financial Times delightfully announced The Age Atomic "a worthy successor [which] has the same jazzy plotting and anything-goes attitude that made Empire State such an unalloyed pleasure."
• As always, Adam was kept busy and held an AMA over at Reddit, answering amongst other questions, his ideal casting for Jennifer Jones and Evelyn McHale.
• And in a HUGE finally, Adam has been short-listed for not one but two awards at this year's Sir Julius Vogel Awards! Empire State has been shortlisted for the Best New Novel (and deservedly so) and Adam himself is up for Best New Talent. Eligible voters are members of SFFANZ or Au Contraire, the NZ national science fiction convention, so please do pass this on if you happen to know any such members, or indeed are one!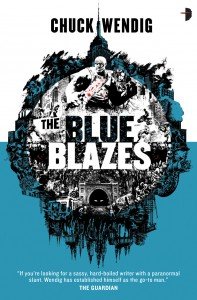 • If the June release of Chuck Wendig's The Blue Blazes (May 28 for US/ebook release and June 6 for UK) is just too far away, then head to the mighty Tor.com and whet your appetite with a glimpse into this fantastic title.
• "Sin City after doing an 8-ball of mystic cocaine"…an epic summary of The Blue Blazes from The 52 Review.  It thusly describes Chuck's prose as "blunt force choreography, full of brutally disturbing descriptions, and wrecking ball action" whilst saying "fans of noir fantasy and urban fantasy with a bleeding edge should definitely explore the world of The Blue Blazes." Roll on June!
• Joseph D'Lacey had, in his words, a huge first this last week with Black Feathers being excitedly photographed in WHS. Photo courtesy of Joseph's Twitter
• The review on A Fantastical Librarian firstly highlights the importance of a great cover as Black Feathers image grabbed and intrigued Mieneke, and she does sound pleased that it did! Describing Joseph's prose as poetic at times, Mieneke praises Black Feathers as "a compelling narrative and an amazing adventure".
• Joseph was also on My Shelf Confessions to discuss his love for all things apocalyptic
• Since our last Robot Round-Up, the book trailer for Black Feathers was released, and if you haven't already seen it, here's your chance!
 • Ever catch yourself thinking about what must go into writing a book like The Marching Dead, or about the worries of writing a sequel to the brilliant The Corpse-Rat King? Wonder no more, but head over to Upcoming4me to hear Lee Battersby's 'Story Behind'
 • The cover reveal for Emma Newman's Any Other Name (May 28 for US/ebook release and June 6 for UK) was excitedly received. Fantasy Fiction's Jennie Ivin is already looking forward to book three's cover given how fantastic Between Two Thorns and Any Other Name look side by side, whilst Uncorked Thoughts thinks it "absolutely beautiful"
• Emma was busy with a short story featuring Between Two Thorns' characters Claudia, Richard, and Imogen, over on Dark Faerie Tales, which is also running competition for a copy of the book, as well as appearing on Ujima Radio's Women's Outlook with Cheryl Morgan, which can be listened back to here.
• Over on Portland Book Review, Between Two Thorns was awarded five stars out of five, with reviewer Katie Richards declaring it "part Jane Austen novel of manners mixed with a contemporary fantasy novel".
That *should* be everything for this round-up but do let me know if I've missed anything (be gentle!), and do come back next week for more linkage!