Damn, April already? Isn't this year flying past? But also, that means that it's British launch week for the wonderful The Age Atomic, the terrifying Black Feathers and the incontinence-inducing hilarity of The Marching Dead.
That man Joseph D'Lacey has been hither and thither promoting his book in the UK, and many thanks to Blackwells and Big Green for letting us hijack your stores. Black Feathers is getting raves everywhere right now:
• The mighty Tor.com said the novel is "an exceptional piece of apocalyptic/horror/fantasy fiction", which is true.
• Upcoming4Me rather agreed: "a refreshing take on the whole post-apocalyptic genre and a great introduction to the writing of Joseph D'Lacey".
• SciFi Now magazine gave it a half page and said the novel "artfully weaves a tale of destruction and rebirth".
• Head to Popcorn Reads for a review and a chance to win an advance proof: "I loved this novel, despite the fact that it gave me chills and some bad dreams."
• … or Book Bones Buffy, who also has a proof to give away, to celebrate "a story that is irresistibly addicting."
• Fantasy blog Draumr Kopa recommended Black Feathers "to anyone who wants a more intelligent story, with lots of secrets and mystery, people who don't mind a little thinking while reading."
• And Then I Read a Book were blown away by the book: "It terrified me, made me angry, made me sad, transported me somewhere new and yet strangely familiar, and hasn't left my head yet. It combines mythology, folktale, shamanism, coming of age and apocalyptic themes to create something very special."
• And Stanley Eriks concluded by saying: "Black Feathers is an original and intelligent apocalypse story. It's a myth-filled fable of the end of the world on an individual basis. It's a coming-of-age story set on a cruel and broken Earth."
The inimitable Lee Battersby has returned, bringing hapless half-dead Marius don Hellespont with him in The Marching Dead, the sequel to The Corpse-Rat King:
• Kate Of Mind blog loved loved loved it, giving it "all the stars" and saying "With this sequel, Battersby kicked up everything I loved about the first novel by a notch or two – world-building, storytelling, hilarity, and most of all, characters who just made me punch the air over and over again, usually while laughing."
• Don't forget you can get a taster in the form of an exclusive short story, Lying Like Cards, right here on this very website.
The tireless Adam Christopher was out and about promoting The Age Atomic, the two-fisted follow-up to Empire State. Thanks to Forbidden Planet in London for a fab launch event this Thursday – we rocked the joint, again.
• The book was an April pick for Kirkus Reviews, which was nice.
• A Writer's Sidequest said it is "a glorious and joyous ode to the pulp science fiction of old. Awesome fun, from start to finish, just straight up, pure entertainment."
• Adam was interviewed on My Bookish Ways, who also have a copy to give away too, so hurry over there!.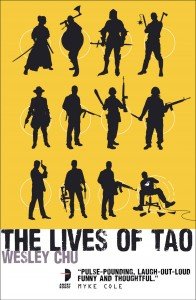 Upcoming debut author Wesley Chu continues to wow folks with the breakneck thrillride that is The Lives of Tao, out in May.
• Wes had a guest post on The Qwillery this week to talk about the first time a novel really spoke to him.
• I Will Read Books had this to say: "By the end of the books I was close to tears, which proves my emotional investment in the characters and their fates. I wish every book made me care about the characters as much as The Lives of Tao."
• Over at Tome of Geek, Wes managed to overcome their usual aversion of genre mash-up novels: "We get the full sci-fi feeling combined with the spy genre without either side getting diluted or ignored. We get the full effect and in turn get a character we care about."
Emma Newman, despite losing her wisdom teeth this week (wishing you a speedy recovery, Em), was still full of the joys of Between Two Thorns.
• Her guest post on The Creative Penn talked charmingly about urban fantasy, as a genre, its influences and its many strands.
• And finally, blog heavyweights Fantasy Faction gave the book nine stars out of ten, saying: "If you like a bit of fairy magic, the juxtaposition between ancient and modern, here and there, and you don't mind being left in suspense for a good few months, you'll really enjoy it." (They're going to be overjoyed when they hear that the sequel, Any Other Name, will be out in June then!)